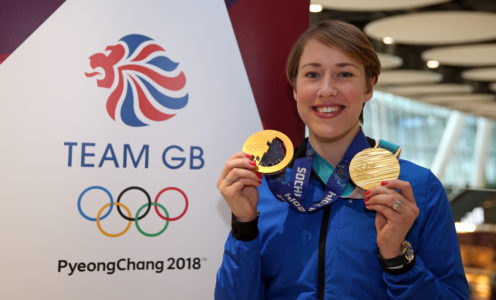 Double Olympic Champion Lizzy Yarnold is backing the search for Britain's next female superstar in the exhilarating sport of skeleton.
British Skeleton, who are based at the University of Bath, last week announced their latest talent identification campaign specifically seeking females aged 17-25 who have the potential to win Olympic gold in Milan Cortina in 2026.
Yarnold won Olympic Games gold in 2014 and 2018 to become the country's most decorated Winter Olympian and she's now putting out the call to the next generation of female thrill seekers to follow in her footsteps.
"It's an amazing opportunity and I'd encourage anyone who's thinking of applying to go for it!' said former heptathlete Yarnold, who is the only British Winter Olympian to retain an Olympic title.
"I know there will be a lot of young women out there who will be thinking, 'I couldn't do that', but you'll never know if you don't take that first step and put yourself forward.
"I could never have imagined where the journey would take me when I signed up 12 years ago. If someone had said that filling in that form would lead to two Olympic gold medals, I wouldn't have believed them.
"I knew next to nothing about skeleton when I signed up. I had no experience of ice sports and had only seen it on the TV at the Olympics but I took a chance and it changed my life.
"My focus when I signed up for the talent ID scheme was on getting to an Olympic Games and achieving a sporting dream but it was the things that went with it that make me just as proud when I look back. I met so many people from all walks of life and from so many different countries, and I built friendships with team-mates who became like sisters when we were on circuit.
"I got the opportunity to travel to some amazing places and I learnt so much about myself along the way. It's an experience I would have treasured regardless of the medals and I'd definitely recommend it to anyone who's thinking of applying."
Trials will be taking place this spring at the University of Bath, home to the UK's only outdoor push-start track for skeleton and bobsleigh training. To sign up click here or visit www.thebbsa.co.uk. Applications close at midnight on April 30th.