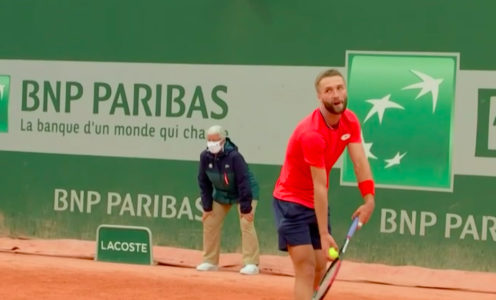 Team Bath Tennis player Liam Broady will bid to reach Roland Garros for a second successive year when he competes in the French Open qualifying draw this week.
Broady, who is coached by Dave Sammel, will take on Chinese Taipei player Jason Jung in the first round of the qualifiers on Monday and is looking for three wins in total to emulate his feat of 2020 and secure his place in the main draw.
"The last couple of weeks, the French Open is all that has been on the mind," Broady told BBC Radio Bristol's The Sports Store ahead of qualifying. "That's what we're preparing for and that's why we started on the clay quite early.
"I qualified for the French last year so I would lying if I said not getting to the main draw this year would be a disappointment. I'm also a realist in the sense that I know it is incredibly difficult to qualify for a Grand. There are 127 other very good tennis players in the qualifying draw but I'm going to go there and make sure I give it everything I can – full focus, full commitment and see what that can do."
Broady has been in good form this year and is currently 146 in the ATP world rankings, just below his career-high of 137 in 2019.
His warm-up on clay included competing in the men's doubles at the Italian Open in Rome with double Wimbledon and Olympic champion Andy Murray.
"It was quite funny really, I asked Andy to sign in with me as an alternate as we were both there for a training week," Broady said. "When he said yes he probably didn't think we were going to get in as five teams had to withdraw from the main draw but that ended up happening.
"It was an amazing experience, I was actually kind of emotional afterwards to have played on the same side as Andy – and in a Masters series in Rome, it's pretty special. I'm probably one of his favourite nemeses, we have a lot of chat all the time and he's always ripping me and I'm always ripping him. He enjoys beating me a lot more than he enjoys helping me win!"