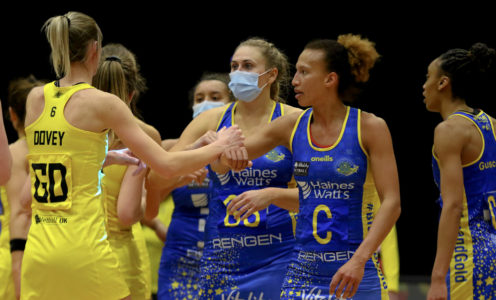 Team Bath Netball's players are going into the Vitality Superleague Finals Weekend excited, refocussed and determined to crown a brilliant season by lifting a first title since 2013.
Some fantastic team and individual performances saw the Haines Watts-sponsored Blue & Gold lead the table for much of the 2021 campaign before a couple of disappointing defeats in their last two matches saw them eventually finish third overall.
However, it was only goal difference that could separate them and old rivals Loughborough Lightning and Manchester Thunder, with all three teams locked on 51 points with an impressive 17 wins apiece from their 20 matches.
Defending champions Thunder will now provide the opposition in Saturday's semi-final (4pm centre-pass) at London's Copper Box Arena, with the winners facing either Lightning or Superleague newcomers Leeds Rhinos in the Grand Final on Sunday (5pm).
England star Serena Guthrie – who, along with Kim Borger, is shortlisted for both the Vitality Player of the Season and Players' Player of the Season in the 2021 Superleague Awards – said: "These are the games you train for. These are the times when people find out who they are, what they are willing to bring and willing to give, so I'm looking forward to seeing how we fare."
Borger added: "I love Finals time, it brings out the best in people and we're looking forward to the challenge. Finals are a completely different game – we know how to play against them, they know how to play against us, we've just got to go out there and show that we want it more than anyone else."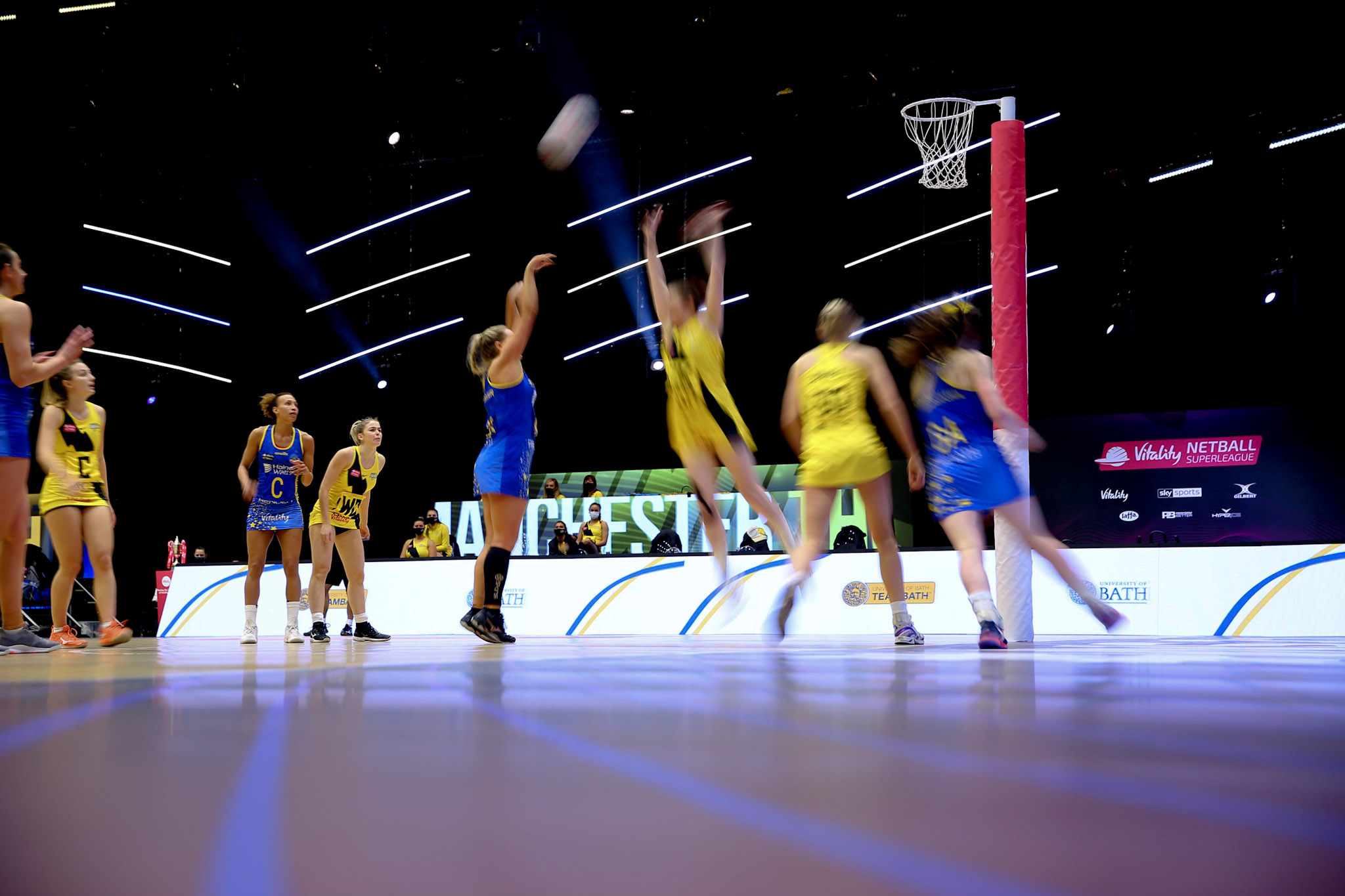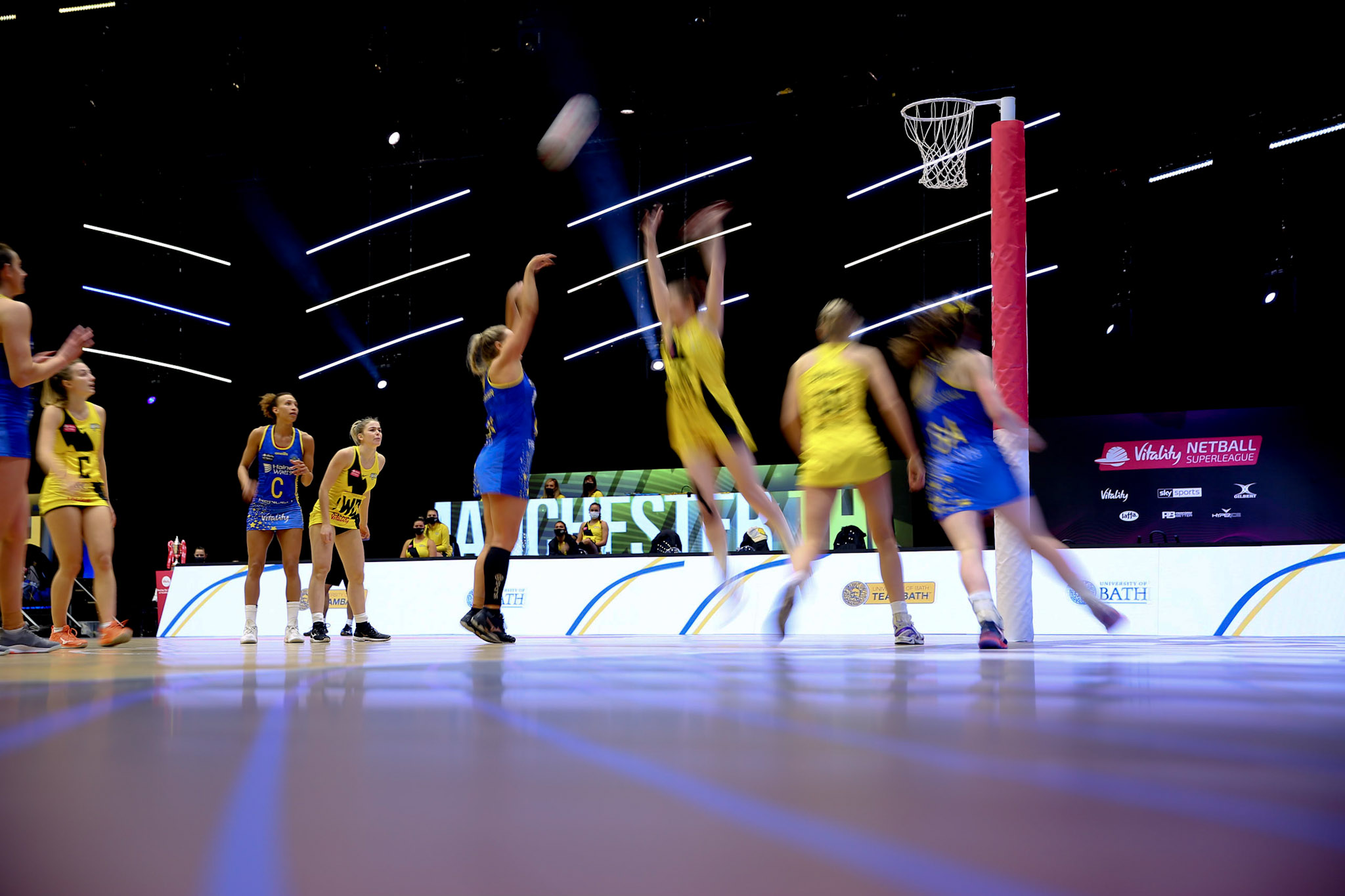 Eboni Usoro-Brown, the third member of Team Bath's leadership group alongside Guthrie and Borger, said: "The last couple of results have been disappointing but I don't think that takes away from what we have achieved so far. The quality and standard that we've put out throughout the season, and against different styles as well, has been some of the best netball from Team Bath in a number of years."
Fellow England defender Layla Guscoth agreed, saying: "We're feeling good. Finals Weekend is about whoever shows up on the day and whilst it would have been lovely not to have had the last couple of defeats hopefully they will have taught us some lessons on where we can be exposed and that can only help going into the knockout rounds."
Rachel Shaw, who is set for her eighth semi-final with the Blue & Gold, added: "When you look at the way we've played and the fact we've only lost three games, it's probably one of the most successful seasons we've had for a while.
"We need to remember those performances going into the semi-finals. The last two games have been and gone, we've had a hard look at ourselves and we're ready to take on the weekend."
Experiencing Finals Weekend for the first time will be Welsh shooter Betsy Creak, who said: "I'm buzzing, I can't put it into words – I can't wait! I've really enjoyed this season, my first full one in the Superleague. It's been a successful one for the team and personally I feel I have done myself proud, getting some game time and improving throughout."
With 1,000 spectators allowed in the Copper Box on both days of Finals Weekend, Team Bath – who are also backed by Rengen and Centurion CFP – will be backed by a sizeable cohort of Blue & Gold fans as they seek a sixth Superleague title.
Defender Summer Artman said: "We're really looking forward to playing in front of a crowd in the semi-finals, which is something I didn't think I'd have chance to say this season. It's been really nice having the fans back, the energy they bring is brilliant."
Guscoth added: "It's been great seeing Blue & Gold t-shirts in the crowd over the past couple of weeks. Your support has been felt throughout the season and thank you so much for keeping us going. Hopefully we can do you proud this weekend."
All of this weekend's matches will be shown live and for free on Sky Sports Mix (channel 416) and the Sky Sports YouTube channel, visit netball.teambath.com/fixtures for links.
Team Bath Netball is supported by its Principal Partner, chartered accountants Haines Watts, who are also a pathway partner, and by Rengen and Centurion Chartered Financial Planners. O'Neills are Team Bath's official kit supplier and 2XU are their compression wear suppliers.