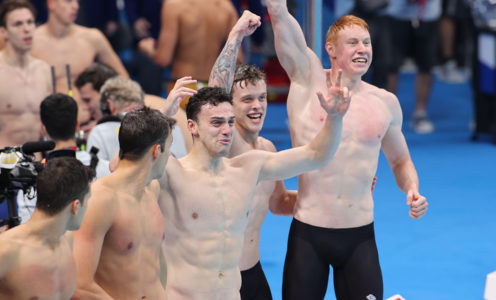 Double Olympic Champion James Guy says he hopes Great Britain's medal success at Tokyo 2020 has helped to "lift the mood of the nation" ahead of a weekend of celebrations across the country.
Guy, who trains at the University of Bath as part of a British Swimming National Centre squad that won eight medals in Tokyo, is among the Olympic heroes attending the I Am Team GB Festival of Sport on Saturday at the Queen Elizabeth Olympic Park in London.
Fellow Bath-based swimmer Matt Richards, who won gold alongside Guy in the men's 4x200m freestyle relay, will also be taking part in a Hero Activity swimming event in Cardiff.
"It has been such a difficult 18 months for everyone around the UK," said Guy. "Hopefully the Olympic Games and the performances of Team GB have helped to lift the mood of the nation.
"Tokyo was such a wonderful experience for me personally and I hope that the millions of people watching the Olympic Games have a newfound ambition to try sport.
"I Am Team GB represents a great opportunity for me, as a Team GB Olympian, to give back to the community that has done so much to support me on my journey as an athlete, and hopefully play a role in inspiring more people to get active, play Olympic sport and live healthier lifestyles."
Find out more about the I Am Team GB activities taking place on August 14&15 by visiting https://www.iamteamgb.com.
Picture credit: Akihiro Sugimoto/AFLO SPORT/Alamy Live News