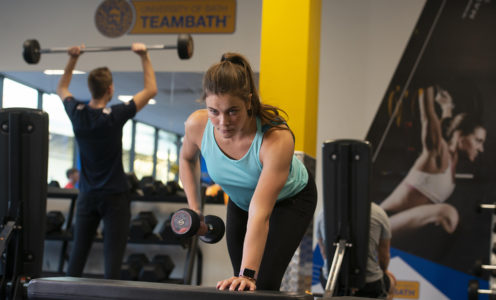 From 6am on Friday 20th August we will move into the next phase of easing our Coronavirus protocols at the Team Bath Sports Training Village. 
The move follows the completion of on-site training by Olympians and Paralympians for Tokyo 2020. Thank you for your cooperation which has been appreciated by all the athletes and their coaches.
Our aim, at this stage, is to increase participation opportunities where we can whilst proceeding with caution with continuing safety in mind.
We will keep some safety elements in place which we ask you to observe:
Wearing a face covering within the buildings, except when exercising, medically exempt or an U12;
Regular hand-sanitising or hand-washing – we will be maintaining our prominent sanitising stations;
Wiping down equipment in the gym before and after use;
Observing the clearly-signed, one-way systems – we will continue using the exit on the lower level next to the reception desk;
Social distancing with others' and your own safety in mind;
Booking via the gym and swim booking systems – these have proved popular with customers;
Maintaining the no-spectator policy for indoor activities.
These are the changes that we intend to make from 6am on August 20th:
We will allow an additional 77 people in total across the two gyms at any one time. This is below our pre-Covid figures and we will closely monitor the situation before making any further changes. We have also increased the numbers in our studios without moving back to full capacity in this phase.
In the swimming pool, we will revert to single lanes and, generally, the 50m format and return our numbers to pre-Covid levels. However, this will place some pressure on our changing facilities, so we will continue to offer space in our spectator seating for those waiting to get changed. We encourage all customers to come ready to swim and then to shower and change swiftly after their session. We have, where possible, staggered start times of different swimming groups to try and reduce the number of people accessing the changing rooms at any one point but please do use personal judgement and wait to enter if you feel they are busy.
We ask customers to show courtesy when overtaking other swimmers in a lane as part of our established and now-reinstated protocols.
We will raise the number of participants on many of our courts and pitches as per new sport-by-sport guidelines.
We will offer waiting space for parents/guardians in the foyer area and the side-gangways above the gym.
We will reinstate the ice-machines.
We will reinstate the drinks fountains once the pedal-mechanisms have been installed.
We will permit spectators access through the building to the outdoor facilities to observe outdoor activity. However, indoor activities will still be restricted to one parent/guardian per child.
We will keep in touch with updates on this and any other changes via our customer guidelines page – please click here to view.
If you have any questions, please get in touch via team-bath@bath.ac.uk. Thank you for your cooperation and assistance.