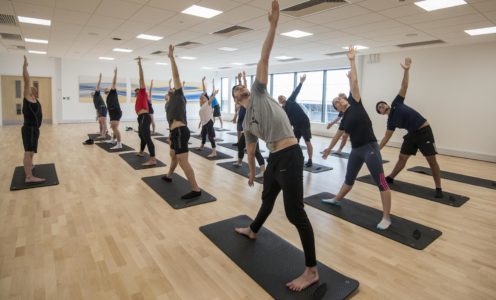 Nearly 70 group exercises classes – indoor, outdoor and virtual – will be available to members and pay-as-you-go customers at the Team Bath Sports Training Village on our expanded timetable from Monday 20th September.
There will be opportunities to enjoy an invigorating fitness class seven days a week with the 17 different types of session meaning there is something for everyone, from yoga and pilates to HIIT and Zumba.
Most of the classes will take place in the dedicated exercise studios in the Team Bath Gym & Fitness Centre but there will also be daily TRX Circuits in the TRX Bays in Gym 2. There will also be chance to enjoy some fresh-air fitness on Sundays with both circuits and HIIT sessions on the beach volleyball courts.
If you can't make it into the STV, there will still be chance to join in a live exercise class online with five virtual fitness sessions taking place each week.
Classes are included in all Team Bath memberships – click here to see what packages we have available for students, staff and members of the public. They can also be booked on a pay-as-you-go basis – click here to see the latest prices.
The weekly timetable beginning on Monday 20th September is as follows (subject to change, classes must be booked in advance online or through the Team Bath Active app):
Time
Class
Type
Instructor
Venue
Monday
0700-0725
TRX Circuits
Body
Health & Fitness Instructors
TRX Bays, Gym 2
0930-0955
TRX Circuits
Body
Health & Fitness Instructors
TRX Bays, Gym 2
0930-1015
Target Cycling
Aerobic
Lucy
Cycling studio
1030-1115
Body Conditioning
Body
Lucy
Group exercise studio
1200-1245
Kettlebells
Body
Matt
Group exercise studio
1230-1315
Target Cycling
Aerobic
Lucy
Cycling studio
1300-1345
Yoga
Calm
Frank
Group exercise studio
1630-1715
Yoga
Calm
Frank
Group exercise studio
1730-1815
Kettlebells
Body
Richard
Group exercise studio
1730-1815
Target Cycling
Aerobic
George
Cycling studio
1830-1915
Target Cycling
Aerobic
George
Cycling studio
1830-1915
Circuits
Body
Lauren
Group exercise studio
1830-1855
TRX Circuits
Body
Health & Fitness Instructors
TRX Bays, Gym 2
Tuesday
0800-0845
Circuits
Body
Matt
Group exercise studio
0930-1015
Burn
Aerobic
Amy
Group exercise studio
1130-1215
Zumba
Aerobic
Julia
Group exercise studio
1200-1225
TRX Circuits
Body
Health & Fitness Instructors
TRX Bays, Gym 2
1230-1315
Body Conditioning
Body
Lucy
Group exercise studio
1230-1315
Latin Fit
Aerobic
Maria Cristina
Online (Zoom)
1700-1745
Barre Fit
Body
Tamsyn
Online (Zoom)
1730-1815
Target Cycling
Aerobic
George
Cycling studio
1800-1825
TRX Circuits
Body
Health & Fitness Instructors
TRX Bays, Gym 2
1830-1915
Burn
Aerobic
George
Group exercise studio
1830-1915
Powerlifting*
Body
Luke
Rig area, Gym 1
Wednesday
0700-0725
TRX Circuits
Body
Health & Fitness Instructors
TRX Bays, Gym 2
0700-0745
Target Cycling
Aerobic
George
Cycling studio
0830-0915
Target Cycling
Aerobic
Lucy
Cycling studio
0930-1015
HIIT
Aerobic
Lucy
Group exercise studio
1030-1115
Body Conditioning
Body
Sam
Group exercise studio
1200-1245
Kettlebells
Body
Nigel
Group exercise studio
1230-1315
Target Cycling
Aerobic
Amy
Cycling studio
1300-1345
Pilates
Calm
Nigel
Group exercise studio
1630-1715
Zumba
Aerobic
Siobhan
Group exercise studio
1700-1745
Yoga
Calm
Frank
Online (Zoom)
1700-1725
TRX Circuits
Body
Health & Fitness Instructors
TRX Bays, Gym 2
1730-1815
Core Blast
Body
Laura
Group exercise studio
1730-1830
Olympic Lifting*
Body
Sandra
Gym 2
1830-1915
Circuits
Body
Laura
Group exercise studio
1845-1945
Olympic Lifting*
Body
Sandra
Gym 2
Thursday
0930-0955
TRX Circuits
Body
Health & Fitness Instructors
TRX Bays, Gym 2
1000-1045
Pilates
Aerobic
Emma
Online (Zoom)
1030-1115
Kettlebells
Body
Sam
Group exercise studio
1130-1215
Strong Nation (Zumba)
Aerobic
Julia
Group exercise studio
1230-1315
Target Cycling
Aerobic
Sam
Cycling studio
1230-1315
Circuits
Body
Matt
Group exercise studio
1330-1415
Core Blast
Body
Matt
Group exercise studio
1730-1815
Target Cycling
Aerobic
Laura
Cycling studio
1830-1915
Target Cycling
Aerobic
Matt
Cycling studio
1830-1855
TRX Circuits
Body
Health & Fitness Instructors
TRX Bays, Gym 2
Friday
0700-0725
TRX Circuits
Body
Health & Fitness Instructors
TRX Bays, Gym 2
0930-1015
Circuits
Body
Jenni
Group exercise studio
1230-1315
Body Conditioning
Body
Laura
Group exercise studio
1300-1345
Pilates
Calm
Brenda
Online (Zoom)
1330-1355
TRX Circuits
Body
Health & Fitness Instructors
TRX Bays, Gym 2
1730-1830
Olympic Lifting*
Body
Sandra
Gym 2
1845-1945
Olympic Lifting*
Body
Sandra
Gym 2
Saturday
0900-0925
TRX Circuits
Body
Health & Fitness Instructors
TRX Bays, Gym 2
0930-1015
Body Conditioning
Body
Laura
Group exercise studio
1030-1115
Burn
Aerobic
Laura
Group exercise studio
1030-1115
Target Cycling
Aerobic
Matt
Cycling studio
1130-1215
Kettlebells
Body
Matt
Group exercise studio
1230-1255
TRX Circuits
Body
Health & Fitness Instructors
TRX Bays, Gym 2
Sunday
0900-0925
TRX Circuits
Body
Health & Fitness Instructors
TRX Bays, Gym 2
1000-1025
TRX Circuits
Body
Health & Fitness Instructors
TRX Bays, Gym 2
1130-1215
Beach Circuits
Body
Mike
Beach Volleyball courts
1230-1315
Beach HIIT
Aerobic
Mike
Beach Volleyball courts
1700-1725
TRX Circuits
Body
 Health & Fitness Instructors
TRX Bays, Gym 2