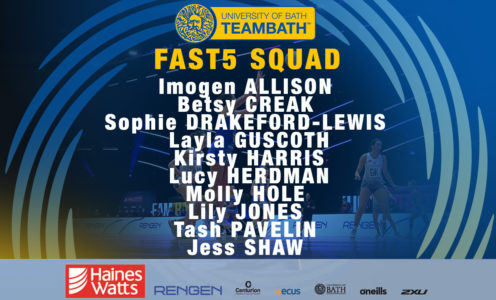 Team Bath Netball are "embracing the fun" of Fast5 as they prepare for a supercharged start to the 2021-22 season.
The Haines Watts-sponsored Blue & Gold have named a ten-strong squad for the 2021 British Fast5 All-Stars Championship, the rapid-paced short-form version of the sport featuring the top eight teams from last season's Superleague campaign.
England stars Imogen Allison and Sophie Drakeford-Lewis are Team Bath captain and vice-captain respectively for the tournament, taking place at London's Copper Box Arena on Saturday 30th October, and are joined by fellow Roses player Layla Guscoth.
Jess Shaw will make her first appearance since recovering from ankle surgery, while 18-year-olds Molly Hole and Lily Jones – who have both been named in Team Bath's 2022 Superleague squad – are set for their first taste of senior netball in the Blue & Gold.
Completing a dynamic squad are Welsh international Betsy Creak, Kirsty Harris, Tash Pavelin and Lucy Herdman, who plays Superleague netball for Severn Stars.
Anna Stembridge, Superleague Head Coach for Team Bath, who are also supported by Rengen, said: "We've had so much fun in training over the past couple of weeks and the girls are excited at the thought of getting out on court again.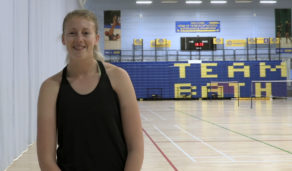 "Fast5 is always a brilliant way to start the season and we missed it last year. It is such a fun tournament and we've really embraced that in our preparations. The girls have been hitting it hard but there have been lots of smiles too.
"It's exciting to have our Roses athletes back in the mix after the New Zealand tour, and I'm really pleased to be able to give Imogen and Sophie the opportunity to lead the squad. We want our athletes to keep developing and this will be a great chance for them to show their leadership skills.
"They are coming back into the squad on a high after their performances with England and it's easy to forget they are both in their early 20s, they still have so much potential for growth and development.
"Lucy has also slotted into the squad really well. She played goal-keeper for Stars in the Superleague last season but we'll be using her as a shooter. She played exceptionally well for Celtic Dragons in that role at the 2019 Fast5 and landed some fantastic long bombs."
It is the fourth year that Team Bath will contest Fast5, where matches are just 12 minutes long and a five-point line rewards those willing to brave a shot from distance. A Golden Buzzer also offers teams the chance to double their points during a two-minute Power Play.
The tournament has provided a valuable stepping stone for developing athletes, with teenagers Hole and Jones set to follow the likes of Pavelin and Hannah Passmore in gaining their first senior exposure in the famous Blue & Gold dresses.
Pavelin said: "It's where the foundation of me playing for Team Bath came from, so every time I get the opportunity to step out there in Fast 5 is really exciting. It was my first experience at senior level and being asked to do that, four years ago now, was really special and a bit of a shock to the system!"
Competing with Team Bath for the £100,000 Fast5 prize fund are defending champions Loughborough Lightning, Manchester Thunder, Leeds Rhinos, Saracens Mavericks, Strathclyde Sirens, Wasps and London Pulse.
Tickets for the tournament, which takes place from 12-6pm, are available at www.fast5allstars.com.
Team Bath Netball is supported by its Principal and Pathway Partner, chartered accountants Haines Watts; Rengen Developments, who are an overall Team Bath Partner; Centurion Chartered Financial Planners and Ecus Ltd, our environment partner. Team Bath's suppliers include O'Neills, 2XU, Pulseroll and Halo Hydration.
Team Bath Netball Fast5 squad: Imogen Allison (C), Sophie Drakeford-Lewis (VC), Betsy Creak, Layla Guscoth, Kirsty Harris, Lucy Herdman, Molly Hole, Lily Jones, Tash Pavelin, Jess Shaw.