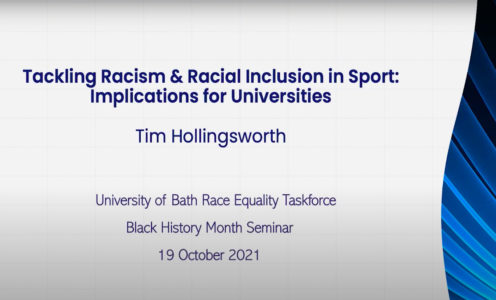 In the week that Show Racism the Red Card staged its annual awareness day, the University of Bath hosted an online seminar as part of Black History Month looking at the work being done nationally and locally to 'bring transformational change' to sport.
It was based around the findings of a national review into racial equality in sport, with consideration of how that could be made relevant and applied to the University of Bath's own initiatives around diversity and inclusion.
The Tackling Racism and Racial Inequality in Sport Review (TRARIIS) was set up in 2020, following events including the murder of George Floyd, to understand if the five Sports Councils across the UK were doing enough to understand the context and tackle the issues involved.
Tim Hollingsworth, CEO of Sport England and member of the University of Bath Council, provided an insight into the findings of the review, which involved an extensive analysis of all publicly available data on race and ethnicity in sport plus a 'lived experience' research project featuring more than 300 people ranging from grassroots participants to elite athletes and coaches.
It concluded that white British people were overrepresented across all sports, including gym and fitness activity, and there was a key disparity in sports leadership due to a lack of coaches, administrators and officials from BAME communities. That was reflected by the formation of parallel organisations, like the Black Swimming Association and National Asian Cricket Council, to offer representation not provided by the sector.
Mr Hollingsworth acknowledged this disparity also existed within Sport England's own internal structures but said action was being taken to drive greater diversity and representation at both board level and across the workforce, including coaches in particular as they provide role models within communities.
While recognising that this process will take time, the Councils are determined to learn from the review and bring transformational change across sport, harnessing its huge power to drive equality and ensuring all parts of the system are fair, welcoming, inclusive, and diverse.
"We have to look to ourselves and 'Be the Change'," Mr Hollingsworth concluded. "There are significant barriers to overcome but unless we take action there won't be trust in those communities that anything will change.
"We also need to have the evidence base – a comprehensive one – and we need to align that with listening to the lived experience of others."
Responding on behalf of the University, Connor Russell – Equality and Diversity Officer for the Department of Sport Development and Recreation – thanked Mr Hollingsworth for his insight into the report.
He agreed there was urgent need for more diversity and representation in leadership and coaching, highlighting the example of Ashley Cole being one of the few England football internationals from his generation not to be employed in a senior management or coaching role.
"Sport teaches us about sharing, team-work and leadership," he said. "These are things that our coaches have lived for years but they sometimes feel they're not providing to students of colour. Students also come to us to say they feel isolated as they cannot relate.
"Not feeling part of the community is often part of the overall experience for students of colour but sport is a vehicle through which we can tackle this and other challenges."
The talk was chaired by Professor Rajani Naidoo, Head of the University's Race Equality Taskforce, and other contributors included Professor Ian White, Vice-Chancellor and President of the University, who praised the "inspirational" work of Connor within the Team Bath community.