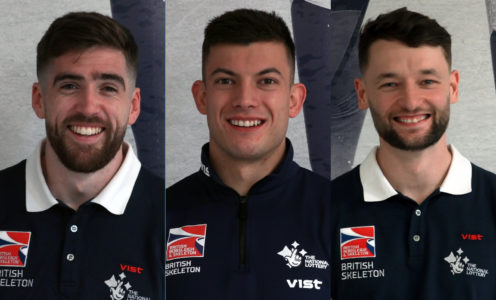 The University of Bath-based GB men's skeleton squad are heading into the Olympic season with the goal of all three qualifying to compete at the Beijing 2022 Winter Games in February.
Craig Thompson, Matt Weston and Marcus Wyatt all won medals on the IBSF World Cup circuit during a highly-encouraging 2020-21 season and say they are confident of building on those experiences during the biggest campaign of their careers so far.
Just two countries can qualify three places via the World Ranking list, which will be finalised in January based on results over two hectic months of competition on the World Cup circuit, with the majority either earning one or two quota spots.
It will be a tough ask but the British trio believe their target is an achievable one after their performances last season and a productive summer of preparation at the Team Bath Sports Training Village.
Weston, who won silver in just his fifth race on the World Cup circuit last December, said: "We've talked about this and if all three of us qualified a spot it would almost make the Olympics already – the sense of joy and happiness would be unreal after what we've all been through together.
"I had some good results last year, so I'm really looking forward to kicking on this season and showing the world what we can do. I'm still very new in the sport and I did make some mistakes but the key is to learn from them so I don't make them again.
"Everyone is going to be raising their game this year but someone said to me once 'you do you and watch everyone else fall apart around you'. Because of the Olympics, a lot of people will get stressed so if you are ticking over and doing what you know you can do well you are going to be in a much better position."
Wyatt, who won silver at last month's Olympic Test Event on the new Beijing track, agreed that friendly competition within the GB training group was helping all the sliders make big pushes.
"The group dynamic with me, Craig and Matt is spot on, I couldn't ask for two nicer guys to be competing with week in week out," he said. "We all have different strengths and when you have that close competition you push each other every day and make each other better.
"I'm super excited about this season. It's going to be a whirlwind but this is what you want to be part of, I've dreamt of being in the thick of it at this time of year.
"Winning silver in Beijing was huge. It's going to be a long season with highs and lows but there is no substitute for knowing that I have performed on the Olympic track. I couldn't have asked for much more from the start of the season."
Thompson, whose World Cup silver came at Igls in January, said: "Hopefully I can build on what I did last season and get some good results which allow me to qualify for the Games in February.
"The big thing I'm taking from last season is trusting the process and knowing I can go out and execute the plan. If I perform well and process the information that the coaches give me properly, there's no reason why I can't get similar results to last season.
"Seeing your mates do well makes us all want to do well, it's just a really good team spirit that we've built. We feed off each other and it's exciting to be a part of.
"We spend more time with each other during the winter than we do with our partners, so it would be quite awkward if we didn't get on! We all want each other to do well and if we all get to the Games then that is a job well done for the whole squad."
The IBSF World Cup season begins with back-to-back races in Innsbruck, Austria, on Friday 19th and 26th November. There are further races in Altenberg (2) and Winterberg before Christmas, then Sigulda, Winterberg and St Moritz before Olympic qualification is settled.
The British Bobsleigh & Skeleton Association (BBSA) is based at the University of Bath, with athletes training in the High-Performance Gym, indoor sprint track, jumps and throws hall, and on the UK's only outdoor push-start track. Click here to find out more.