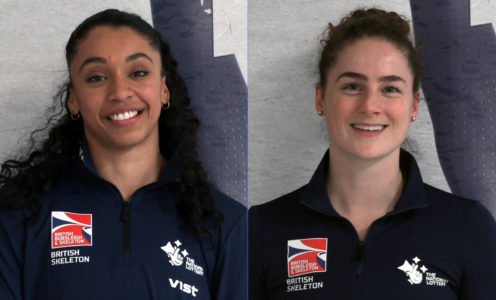 PyeongChang medallist Laura Deas and aspiring Olympic debutant Brogan Crowley are going into the new IBSF Skeleton World Cup season with different levels of experience but the same goal – qualifying for the Beijing 2022 Winter Games.
Deas, who won bronze in South Korea three years ago, is the only member of the University of Bath-based GB skeleton squad to have previously competed at the Games and is sharing her knowledge of what to expect over the next three months with team-mates like Crowley.
"We're a very close team and I like to think my experience can help them," said Deas. "I remember when I was preparing for PyeongChang and hadn't been to an Olympics before, I very much relied on Lizzy [Yarnold] and Dom [Parsons], and listening to how they had navigated all of the challenges.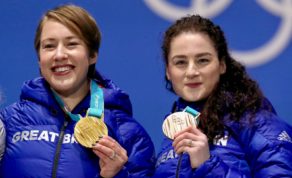 "Hopefully if I can impart some of that to this next generation of athletes then I'm doing my bit as well. I help them out with my experience and they help me out with their drive and passion. It's a very special time for them and I'm very lucky to see that from my side."
Crowley, who will race alongside Deas on the Women's World Cup circuit this season, said: "We're all like puppies, we're all excited, but Laura has brought that level-headedness. The programme is good at that too, keeping us all focused.
"This season will be really exciting for us all. It's a completely different challenge – we have the usual eight World Cup races but at the end of it we'll have either qualified for the Olympics or not, so there is that added pressure. Working out from race week to race week where you stand and trying to keep your head will be the challenge but it's one we've all been prepped for and hopefully it will be positive for us all."
Deas agreed, saying: "It's very important to have a balance going into an Olympic year. If you're overly focused on the goal at the end, your eye might be off the ball at some of the World Cup and they are key to getting there. You can't neglect one for the other.
"In terms of energy as well, it's a very long winter with eight World Cups that all count towards qualification and it's a long time to have that intense focus. Hopefully that's where my experience will help me, in drawing confidence from the things I have done well before.
"When I look back to this time four years ago, I had some great results but some really average ones and a few bad races too. That didn't end up defining what happened at the Games so when things get stressful, as they inevitably will, I can look back on that."
Crowley is looking to build on a 'really positive' 2020-21 season, the first she had completed injury-free after being hampered by an ankle nerve problem.
"Last season was a big stepping stone as I actually got through the whole year without injury, so the number of runs I had was massive in comparison to previous years," she said. "In every World Cup race I bettered my result and I finished with a fifth place, which I was really pleased with."
The IBSF World Cup season begins with back-to-back races in Innsbruck, Austria, on Friday 19th and 26th November. There are further races in Altenberg (2) and Winterberg before Christmas, then Sigulda, Winterberg and St Moritz before Olympic qualification is settled.
The British Bobsleigh & Skeleton Association (BBSA) is based at the University of Bath, with athletes training in the High-Performance Gym, indoor sprint track, jumps and throws hall, and on the UK's only outdoor push-start track. Click here to find out more.