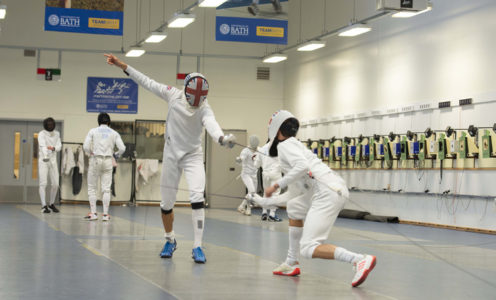 Incoming Pentathlon GB Performance Director Jon Pett says he is looking forward to being part of a "multi-sport, multi-learning environment" at the University of Bath when he begins his new role in January 2022.
Pett has been appointed as successor to the recently-retired Jan Bartu, who established Britain as a global modern pentathlon powerhouse during his 23 years leading the high-performance programme based at the University's Sports Training Village alongside other Olympic and Paralympic sports like British Swimming, British Triathlon, the EIS World-Class Wheelchair Fencing Programme and the British Bobsleigh & Skeleton Association.
"This multi-sport, multi-learning environment is something I firmly believe is one of the strengths of our sporting system and I'm looking forward to being in this high-performance community and working with the University of Bath," said Pett, who is leaving British Cycling where he was known as a strategic thinker across both the Paralympic and Olympic programmes during a successful seven-year stint.
"I feel that it is a moment for new opportunity as well as challenge for the sport. I like the growth, the journey and the success that the sport has had. I know that there are multiple changes ahead and it will be a question of whether we can deal with those challenges quicker than anyone else and come out on top.