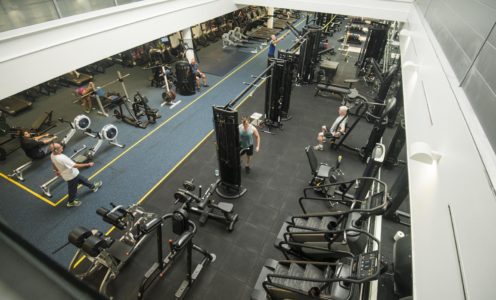 The latest range of cutting-edge Matrix Fitness equipment is being installed in the Team Bath Gym & Fitness Centre this January as part of a major refresh and recharge of our workout spaces for 2022.
More than a third of the equipment in the original Team Bath Gym – known as Gym 1 – will be replaced and upgraded, and an inspirational new functional area created during the extensive £100,000-plus refurbishment which is taking place from 17-19 January.
As well as climbmills, bikes, rowers and ski ergs, the new range of cardio equipment will include slat-deck treadmills, which reduces impact on joints by up to 19 per cent and helps prevent overuse injuries, and assault air runners, which have been proven to burn up to 30 per cent more calories than a standard treadmill.
All of the new equipment comes with wireless charging, USB ports and bigger screens featuring an app-based interface – similar to smartphones – to help make navigating the Touch Consoles easy and smooth.
With two of the wooden platforms being moved to an expanded lifting area in Gym 2, the additional space next to the rig platform will be turned into a functional area featuring the ski ergs, air runners and mats – perfect for a high-intensity interval training (HIIT) session. It will also host a range of new group exercise classes from w/c 24th January, being added to the 60-plus already on offer – click here to view the timetable.
Sam Holmes, Team Bath Health & Fitness Manager, said: "We are really excited to be starting the new year with this major upgrade of our gym, ensuring customers will have access to the very latest Matrix Fitness equipment in a refreshed training environment as they pursue their exercise goals during 2022."
The refurbishment work means Gym 1 will be closed on 17th and 18th January but will reopen as soon as the new equipment is in place.