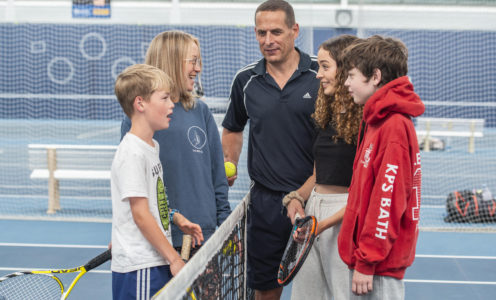 Tennis has a problem but it's one that British Tennis is more than delighted to have. Figures show that Emma Raducanu's US Open success last year encouraged thousands more of us to take up a racket or try the sport again or to become fans.
The drive is now on to make more use of existing facilities and to find new coaches to support this growing interest.
Team Bath Tennis has joined that drive and is offering more opportunities for the local public to play the game but also to become a coach.
At Team Bath you can play outdoors but when it's cold, wet and windy we also have the luxury of indoor courts – click here to find out more about booking a court.
We also have cardio tennis on offer on Wednesday evenings and Saturday mornings if you want to work out to music indoors in a fun and buzzy environment. That's alongside all the great sessions we already do with hundreds of local youngsters starting out in the sport – click here to see the full timetable of courses running throughout term-time.
What's more Team Bath is involved in offering opportunities to club players, PE teachers, fitness experts and others from across our region, to take their first coaching qualification and join the resurgence of this much-loved sport – click here to find out more about out coach education programme.
Of course, with Raducanu having inspired a new generation of girls and young women to take up the sport, the search is on for new coaches from all sources but particularly for female coaches. At Team Bath we have a long history of great female coaches like Alex Walker, Eve Hughes and latest recruit Lauren English. Why not see if you can join them?
Team Bath, sponsored by Rengen, is the overall name for the sports activities taking place on the University of Bath campus and which covers everything from tots taking first steps in sport to elite athletes training for major events. We are open to the public seven days a week and have expert coaches and trainers. To book tennis activities or to find out more, visit www.teambath.com/tennis.