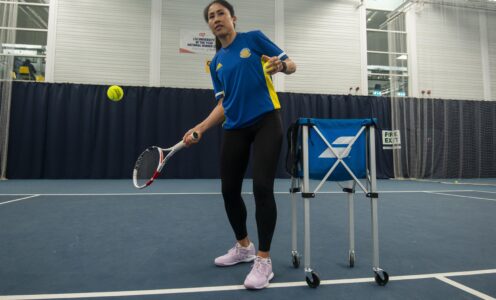 Despite the surname, there's a quiet Aussie twang to the voice of recently-appointed Team Bath tennis coach Lauren English.
Dig a bit deeper and you find that the softly but professionally-spoken player-turned-coach, who came to Team Bath from The Redland Club in Bristol, has a remarkable back-story. Not one necessarily typical of someone who has played Grand Slam tennis at junior and senior level and who is now passionate about coaching and the need for more female coaches.
Lauren and her children moved to the UK because of her husband's job but she was born and brought up in Australia of Chinese parents, perhaps sport of some kind was always going to be in her DNA. Lauren's grandfather and uncles played professional football.
Aged six "or so", Lauren followed a big brother into playing tennis which she saw as a 'hobby' and not something serious. "I had fun and the weather in Australia helps with outdoor sport".
Before she turned 11 – viewed as a bit late these days for an elite tennis pathway – she was spotted by tennis royalty – Evonne Goolagong Cawley – as part of a nationwide 'Search for a Star' and invited to the Australian Open to play a tournament, meet some top players and have breakfast with them.
"It was an inspirational week and that was my first taste of having female role models, along with the coach at [my club]. It was really rare in those days to have a female coach. Up to that day, I'd been having fun but not really winning much. After that day I thought that if I worked hard maybe this was a sport I could do well in".
Lauren went on to win tournaments, competed in the U14, 16 and 18 Nationals, became the New South Wales no1 and top 5 nationally then, having stayed to finish her education to the equivalent of "A-levels", went onto the tour aged 17.  She played the Australian Junior Open and was given a wild-card into the Australian Open itself.
During that period Tennis Australia created a mentor group of current and past players like Renee Stubbs, Nicole Pratt and Sam Stosur to work alongside the younger players. "That's what I'd like to see more of in the UK", said Lauren.
Lauren also draws on her experiences of playing but also of working with role models she liked and respected when coaching the current cohort of 10 to 14 year-olds at Bath.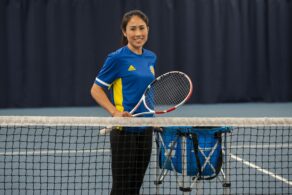 "I can talk to them about how it felt at their age, about my experiences on the journey and hopefully that helps them keep things in perspective. We can look together at different ways of doing things and I think it helps that I'm a mum too", she explains, "and I feel that even the boys I coach can let their guard down a bit with me.
Lauren believes that there is not just one way of coaching but it's all about what's right for the individual.  "I can be tough too but quietly and with respect. I'm not the kind of coach who is going to raise my voice and jump up and down on the sideline  at players".
Working as part of an LTA-guided pathway at Bath, building in partnership with the work of club coaches in the region, Lauren's focus is on the development of the player at a critical part of their performance journey.  She helps mould the player but also the person.  "It's about first and foremost nurturing them in three ways, as a performer – head, heart and athlete space".
"I always say to players that this is about the journey and we can often get wrapped up in chasing points and winning titles but we need to keep this in perspective. For me, it's about supporting players to become great players but also great people".
At Team Bath, Lauren, along with the support team, aims to take the stress out of everything else so that players can focus on playing.  "We want to make sure they are injury free, that they have fun and are passionate about what they are doing and that they are in a safe and healthy environment where they feel a belonging. We value trust, excellence, appreciation and respect.".  It's been a long and interesting journey from Sydney to the Sports Training Village.