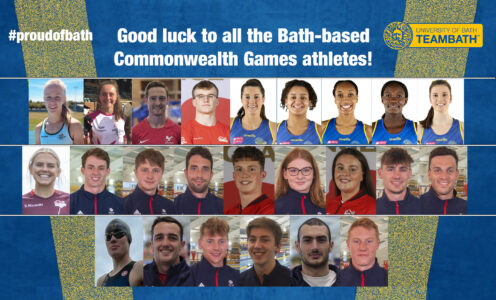 The Birmingham 2022 Commonwealth Games officially begin today (Thursday) and there will once again be plenty of University of Bath interest at an international multi-sport championships.
Thirty-six athletes who either train, study or studied at the University will competing in the West Midlands over the next 11 days, looking to add to the 44 medals won by Bath-based sportspeople at the two previous Commonwealth Games – Glasgow 2014 and Gold Coast 2018.
Here are some facts and figures about this year's Commonwealth contingent…
24 athletes who currently train or study at the University of Bath have been selected, plus an additional 12 alumni.
They will compete across eight different sports – athletics, badminton, hockey, judo, netball, rugby 7s, swimming and triathlon.
They will represent seven different countries or territories – England, Cyprus, Gibraltar, Guernsey, Isle of Man, South Africa and Wales.
Seven 2021-22 students or scholars have been selected – Abi Galpin (Economics, athletics); Holly Munro (Applied Forensic Psychology with Counselling, hockey); Grace Crompton (Sports Management and Coaching, rugby 7s); Johnpaul Balloqui (Civil and Architectural Engineering, swimming); Tom Dean (Mechanical Engineering, swimming); Markos Iakovidis (Sports Performance, swimming); and Niall Caley (Economics and Mathematics, triathlon). Many of them are supported by sporting scholarships or the Team Bath Dual Career Programme.
The biggest representation comes in swimming with 13 athletes who train here being selected including four Olympic Champions – Freya Anderson, Tom Dean, James Guy and Calum Jarvis, all members of the British Swimming Performance Centre Bath.
Team Bath Netball is also well represented with five members of the 2022 Superleague squad being selected for England (3), Wales and South Africa.
Several past and present coaches will also at the Games including Adam Hall (judo, Team England); David McNulty (swimming, Team England); Jess Thirlby (netball, Team England); Tamsin Greenway (netball, Team Scotland); and Rhys Davey (triathlon, Team England).