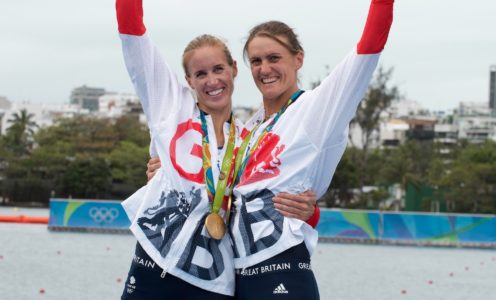 Double Olympic champion Helen Glover has been selected as part of Great Britain's first home team for a World Rowing Beach Sprint Finals, with the 2022 edition taking place in Saundersfoot, Wales from 14-16 October.
Glover, who began her celebrated rowing career with the GB Rowing Team Start talent development programme at the University of Bath, will contest the women's single sculls on the Pembrokeshire coast.
"I'm really enjoying trying something new and to take it to the World Championships is very exciting," said Glover, who won women's pair gold alongside University of Bath graduate Heather Stanning at London 2012 and Rio 2016. "Rowing has given me so much and trying this new type of rowing feels like a celebration of the sport that I love."
Hotly tipped to become a future Olympic discipline, Beach Sprint is a relatively new rowing event with head-to-head racing taking place in singles, mixed doubles and mixed coxed quadruple sculls. Raced in coastal boats, it begins with a run from the beach to the boat before athletes sprint-row to a buoy and back. The race ends with one rower from each team sprinting to a finish line on the beach.
Louise Kingsley, Director of Performance at British Rowing said: "The 19 selected rowers merge athletes from our Olympic pathway and the coastal rowing community. They are making history as Great Britain's first home Beach Sprint team and will have the opportunity to race at this new, fast and furious event in Wales which also shows a totally different side to rowing!
"The eyes of the world will be on Saundersfoot Harbour in October, with the IOC and Commonwealth Games tipping Beach Sprint for inclusion in Los Angeles 2028 and Victoria 2026 respectively. We hope that the racing will inspire a new generation of elite athletes who could also make history by being our first Olympic and Commonwealth Games Beach Sprint medallists."