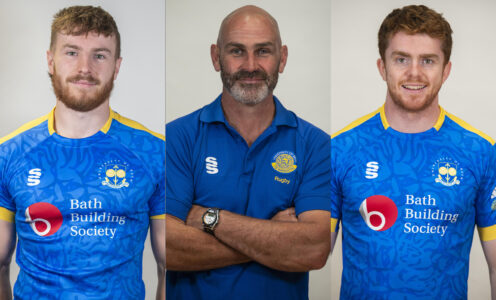 Team Bath men's 1st XV are approaching the new season with renewed "vim and vigour" as they prepare to start their 2022-23 BUCS Super Rugby campaign with a Freshers' Week home match.
Cardiff will provide the opposition at the Team Bath Sports Training Village on Wednesday 28th September (6.30pm kick-off) and entry is free to spectators, with the club hoping for a big crowd as a new influx of students enjoy their first few days at uni.
The University of Bath's rugby performance group, sponsored by Bath Building Society, have enjoyed a productive pre-season over the past six weeks, boosted by the arrival of several talented new student-players.
Head of Rugby Aaron James' coaching team has also been bolstered by Bath Rugby Academy coaches Mark Lilley and Ryan Davis, who are working with the forwards and backs respectively.
"Pre-season has gone really well," said James, who is leading Team Bath into their seventh BUCS Super Rugby season. "There have been a lot of changes but that has brought a new focus to things. The boys are really engaged, they are ready to get going and fire some shots.
"The University puts a lots of resources into the rugby club from far and wide, including Team Bath and the SU [Students Union], and this fixture during Freshers' Week is a chance to showcase ourselves and put on an event for new students and welcome back our regular supporters.
"It's also a chance for those students just coming to university to enjoy just one of the many sports that Team Bath has to offer. It's always great having a big crowd on the balcony and on the terrace, it really inspires the whole team and everyone involved."
Team Bath missed out on the end-of-season play-offs for the first time last year after placing ninth overall but joint captains Alfie Garside and Tom Williams believe they will be more competitive this time round.
"We all know we fell short last year but I personally believe, and I know a lot of the players do too, that we have a massive opportunity this season," said winger Garside, who studies Sport and Exercise Science.
"We've come together this pre-season and been really effective in what we've done. The new guys have made a massive impact. It can be really difficult to come into the squad, and the university environment overall, and be integrated straightaway but everyone has gelled and we have a really good team environment.
"I'm really looking forward to our first game at the STV. The rugby club is a big part of the university and hopefully we'll get everyone out for Freshers', get a good crowd and they can watch a serious spectacle."
Flanker Williams, who studies Aerospace Engineering, added: "I feel we have great potential within the squad to put some good results on the board. Last year we were frustrated in quite a few games, so it's about finding those extra margins where we can get on the right side of the scoreline and then aim to put a good run of results together.
"We are always aiming to be top of the league. We have to push for that top-four place so we can get a home quarter-final going into the play-offs. Personally I want to lead these boys well and not just be the best rugby players but the best people we can be as well.
"I'm really proud to be co-captain. I'm in my fifth year and it's been great to grow up with some of these boys, I've made some good friends through the club and there is a really great culture, so it is an honour to lead them."
On the horizon for Team Bath is a return to The Rec for the first time since 2019 for the Rengen-sponsored Anniversary Game. Reigning league champions Durham will provide the opposition for this year's match, taking place at the city-centre home of Bath Rugby on Wednesday 26th October (6.30pm). Tickets are free and more details will be available at teambath.com/AnniversaryGame.