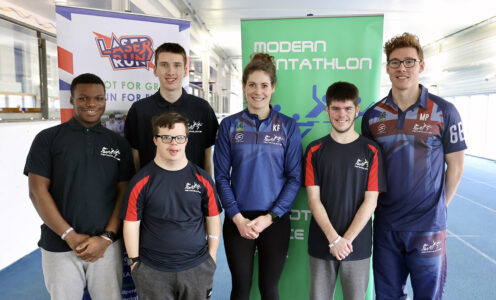 Tickets are on sale for the UIPM Modern Pentathlon and Laser Run World Championships 2023, a Paris 2024 Olympic Games qualifying event coming to Bath this summer.
There are just six months to go until the best all-round athletes on the planet do battle in swimming, fencing, horse riding and laser run at the University of Bath, home to Pentathlon GB's world-leading National Training Centre.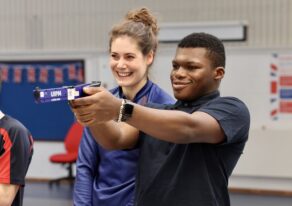 To mark the occasion pupils from Warmley Park School in Bristol, Pentathlon GB's inclusion partner, joined reigning Olympic Champion Kate French and rising star Myles Pillage at the World Championships host venue – the £35million Team Bath Sports Training Village (STV) – to try their hand at some of the sports spectators will be able to watch when the championships take place from 19th to 28th August.
"It is so exciting that the World Championships are just six months away and will be taking place right here in the beautiful city we call home," said French. "I have very fond memories of competing here when the University of Bath hosted the 2015 and 2019 European Championships – hearing that home crowd roaring you on is such an incredible feeling.
"My silver medal in 2019 actually qualified for the Tokyo Olympics where I won gold. The fact that Paris 2024 places are up for grabs this summer means competition will be intense and spectators can look forward to some outstanding sport."
This year's Modern Pentathlon World Championships are the first to be staged in Britain since 2009 and will be contested in the new, action-packed 90-minute format. Spectators will watch the fencing, horse-riding and laser run live from their seats in an outdoor arena, while the swimming section – taking place in the STV's Olympic-sized pool – will be broadcast via a large video screen in the stadium.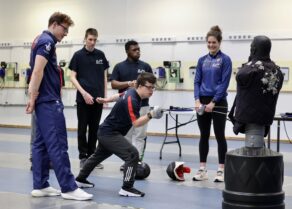 University of Bath graduate Pillage was a double relay gold-medallist when Bath hosted the 2019 European Championships and said: "The new format is brilliant for spectators as they get to see all the action in one place and in quick succession. We've embraced it as athletes too and the British team enjoyed a lot of success last year, adapting to the changes really well.
"The support we received in 2019 was unforgettable and that noise when we crossed the finish line and won gold is something I hope to experience again. I know sports fans will relish this opportunity to see world-class athletes competing at the very highest level here in Britain."
An interactive pentathlon experience will run alongside the competitive events to give spectators the chance to discover the five disciplines for themselves. It includes the chance to try laser run, the fast-paced event combining running and shooting which has its World Championships in Bath from 19-21 August ahead of the pentathlon.
Daily tickets are priced from just £5, with entry to Pentathlon Finals Day on Sunday 27th August – when both the men's and women's champions will be crowned – priced from £15 for adults and £5 concessions. All tickets in the accessible stand are £5 throughout the event.
Event schedule (Modern Pentathlon unless stated)
Saturday 19th August 2023 – Laser Run World Championships – individual.
Sunday 20th August 2023 – Laser Run World Championships – individual.
Monday 21st August 2023 – Laser Run World Championships – relays and para laser run.
Tuesday 22nd August 2023 – men's and women's relays.
Wednesday 23rd August 2023 – women's qualification round.
Thursday 24th August 2023 – men's qualification round.
Friday 25th August 2023 – women's semi-finals.
Saturday 26th August 2023 – men's semi-finals.
Sunday 27th August 2023 – women's final, men's final.
Monday 28th August 2023 – mixed relay.