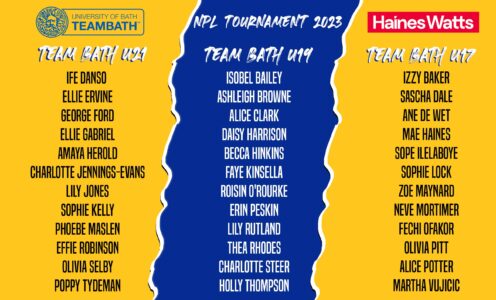 Team Bath Netball's age-group teams will be looking to build on impressive league campaigns when they compete in the 2023 Netball Performance League (NPL) Tournament, taking place in Nottingham from 27-30 July.
The U21s, who won bronze in the league, have included three Team Bath 2023 Super League players in their exciting squad – Lily Jones, University of Bath sporting scholar Sophie Kelly and Phoebe Maslen.
Daisy Harrison and Lily Rutland, who were named as overall Player of the Season for the U19 and U17 league campaigns respectively, both feature in a Team Bath U19 squad looking to build on their fourth-placed finish in the league table.
Team Bath's U17s won NPL South silver medals during the league season and will look forward to testing themselves on the full national stage. They will face Leeds Rhinos, Manchester Thunder, North East Phoenix and Severn Stars in their group matches.
The U19s take on Loughborough Lightning, Thunder, Surrey Storm and Mavericks, while the U21s will face London Pulse, Thunder, Stars and Mavericks in their group fixtures.
Team Bath's NPL squads are supported by Haines Watts, the Blue & Gold's principal sponsor.
NPL tournament squads
Team Bath Netball U21: Ife Danso, Ellie Ervine, George Ford, Ellie Gabriel, Amaya Herold, Charlotte Jennings-Evans, Lily Jones, Sophie Kelly, Phoebe Maslen, Effie Robinson, Olivia Selby, Poppy Tydeman. Coaches: Natalie Roddy, Anya Le Monnier. Team manager: Vicky Carnall.
Team Bath Netball U19: Isobel Bailey, Ashleigh Browne, Alice Clark, Daisy Harrison, Becca Hinkins, Faye Kinsella, Roisin O'Rourke, Erin Peskin, Lily Rutland, Thea Rhodes, Charlotte Steer, Holly Thompson. Coaches: Holly Duerden, Layla Slade. Team manager: Roni Peck.
Team Bath Netball U17: Izzy Baker, Sascha Dale, Ane De Wet, Mae Haines, Sope Ilelaboye, Sophie Lock, Zoe Maynard, Neve Mortimer, Fechi Ofakor, Olivia Pitt, Alice Potter, Martha Vujicic. Coaches: Chantelle Cox, Brittany Johnson. Team manager: Kelly Browne.