Tom Reed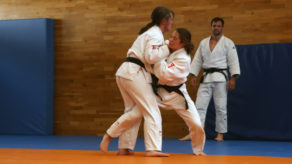 Event: Under-81kg
Date and Place of Birth: 1986, Devizes, Wiltshire, UK
Coached by: Juergen Klinger
Date Arrived at Team Bath: 2003
Course of Study: BSc Business Administration
Length of Course: 3 years
Occupation: Assistant Judo Coach
Biography: 
Having been a Commonwealth medallist during a brilliant 15-year career while training at the University of Bath, Tom returned to the Team Bath Dojo in January 2020 to take up the role of Assistant Judo Coach.
Tom Reed initially joined the High Performance Training Programme as a judoka at the age of 16 and in October 2006 commenced his studies in Business Management at the University of Bath, following a gap year where he trained at Tokai University in Japan.
Tom established himself as one of Britain's most capable performers with an explosive arsenal of throws that make him a crowd favourite on the domestic stage.
The Devizes judoka followed in his uncle's footsteps by becoming a GB player, carving out his own reputation after winning the IJF Miami Grand Prix in June 2013. He went on to win silver while representing England at the Glasgow 2014 Commonwealth Games before calling time on his international career in 2016.
Career highlights:
Silver – Under-81kg, Commonwealth Games, Glasgow, Scotland, July 2014
Gold – International Judo Federation Grand Prix, Miami, June 2013
Gold – European Cup, Sweden, 2010
Silver – World Cup, Austria, 2010
Silver – European Under-23 Championships, 2007