Netball Superleague: Super Saturday – Team Bath v Surrey Storm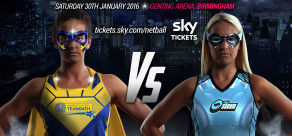 Four matches – all televised live on Sky Sports – will be played during an action-packed day at The NEC in Birmingham on Saturday, January 30, culminating in the prime-time showdown between five-time Superleague champions Team Bath and the current title holders Surrey Storm (8pm).
Director of Netball Jess Thirlby, who has reformed her coaching partnership with Anna Stembridge, said Super Saturday had ramped up the excitement levels in the countdown to the new season.
"Super Saturday is such a pioneering event and it is fitting that we get to take on last season's champions in the prime-time slot," she said of the event that was instigated by Team Bath.