Proud to be a host
Team Bath and the University of Bath have proudly hosted teams and individual athletes for a number of major events, including in the lead-up to the London 2012 Olympic Games.
Top athletes from around the globe fine-tuned their preparations for London 2012 at the University's Sports Training Village.
Squads such as British Paralympic athletes, Chinese Olympic swimmers, Malaysian badminton players and Olympic judokas from Nauru and Barbados all trained at the University ahead of the Games.
They were joined by individual athletes from Denmark, Iceland, Libya, Russia, St Vincent & the Grenadines and the United Arab Emirates.
"The Sports Training Village has got everything we needed"
Lu Yifan, Chief Technical Researcher of the Chinese National Swimming Team, said: "Training at the University of Bath was the best choice for us. The campus is very good, it has good facilities and a good swimming pool.
"It's not just the sports facilities; we have also stayed in accommodation and used the restaurants on campus, and it's not far from London.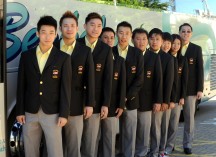 "It's difficult to find all of the things we need on one site at a university campus or in a city. It's been very good for the swimmers to prepare for the London Olympics here."
David Clarke, a member of the Paralympics GB visually impaired football team who trained at the final preparation camp ahead of the London 2012 Paralympic Games, said: "The University of Bath was great. We had a really warm welcome. The accommodation is close to the facilities and the Sports Training Village has got everything we needed."
BBC film 2012 prospects training at Team Bath
Watch the BBC's news video London 2012 – Team Bath welcomes international prospects.
Training camp press releases
Danish Paralympic swimmers prepare for London 2012 in Bath 6 August 2012
Russian athletes head for Olympics after successful camp 1 August 2012
Malaysian shuttlers head to London 2012 with golden goal 24 July 2012
Chinese swimmers make final London 2012 preparations at the University of Bath 21 July 2012
Libyan swimmer looking forward to London challenge 19 July 2012
Contact us
For further information about what Team Bath has to offer as an inspirational training venue visit our Events pages, email team@bath.ac.uk or see our downloadable guide:
Training camp brochure – an inspirational training venue [PDF]
Team Bath: a fantastic venue
See all the Team Bath filmson our YouTube channel.