International High-Performance Tennis Academy
Team Bath is a recognised International High Performance Centre and LTA Regional Player Development Centre (RPDC) and Local Player Development Centre (LPDC), with the Academy the pinnacle of performance tennis at the University of Bath.
Current and former senior Academy players include Alicia Barnett, Sam Murray, Anna Smith and Liam Broady, World University Games silver-medallist Luke Johnson and New Zealand Davis Cup player Marcus Daniell, a Tokyo 2020 Olympic bronze-medallist and regular on the Grand Slam circuit.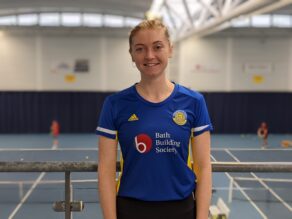 As RPDC for the South West and LPDC for Bath, we work with the LTA to develop the top players aged seven-14 in the region. Click here to find out more.
Players have access to world-class coaching on our outstanding indoor and outdoor tennis courts at the £35million Team Bath Sports Training Village. A high-performance gym, indoor and outdoor athletics tracks, Olympic-sized swimming pool and Physio and Sport Science support are among the other facilities available on site.
Around 20-30 school-age players also access the Academy programme every week, combining sport with education at our three partner schools in the Bath area.
What makes the Academy programme unique is the willingness of our coaches and trainers to travel with players to tournaments, at home and abroad – something we believe is an integral and essential part of a player's ongoing tennis education.
Testimonials

Marcus Daniell

"The atmosphere that the coaches have created here is, in my opinion, the best in Britain and it would be great if more players could come and experience it. We have a beautiful indoor tennis centre, clay and hard courts outdoors, a world-class gym and great physio support, and the coaching team is phenomenal.

"A lot of places say they put care into creating the right environment but they don't do it. This place is constantly evolving – they don't just say they are going to make changes and improvements, they actually do them and are active in making it an amazing environment.

"Everyone who is here – players and coaches – is here because they have shown they want to put everything into their tennis. Everything is set up as well as it can possibly be set up and there is absolutely nothing stopping you achieving as much as you want to achieve."

–Marcus Daniell, Rio 2016 Olympian and New Zealand Davis Cup player.

"It is a privilege to be a part of such a fantastic team and to see that the Academy is attracting the players it so richly deserves. It is absolutely right to advertise the fact that high-ranking players are actively choosing Team Bath as their training base.

"These players bring with them a wealth of experience that benefit our kids and help attract more of the same into the fold. We are not alone in recognising this fact!

"My son Lewis wears his Team Bath kit like a trophy and is very proud to be a part of the team. Keep up the excellent work. We know you will!"

–Justine Hunnisett, parent of a Team Bath development player.