Academy programmes
Touring
Our touring players compete in WTA and ATP tournaments throughout the world and have their base here at Team Bath Tennis.
The programme is headed by coaches Dave Sammel and Ian MacDonald who are supported by strength and conditioning coaches including Henry Jones. Sammel has 25 years of tour experience guiding players from top junior level upwards to becoming top international players.
Touring players based at the Team Bath Sports Training Village have access to Olympic-standard facilities including a high-performance gym; indoor, outdoor and clay courts; and physiotherapy and sport science services all situated on campus.
Touring players are joined by coaches who travel alongside players to a number of tournaments throughout the year. Acceptance into this programme is on a case-by-case basis.
Academy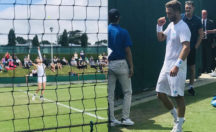 What makes our programme unique is the willingness of our coaches and trainers to travel with players to tournaments – something we believe is an integral and essential part of their tennis education.
The Team Bath International High-Performance Tennis Academy programme provides top-level coaching, tournament travel/expertise, sport science and conditioning, schooling and accommodation for top junior players.
Our aim is for these players to progress to the touring team and become professional tennis players or to gain scholarships to American and British universities. Dozens of players have earned scholarships to the USA.
Access programme
Around 20-30 school-age players access the University of Bath's IHPC per week from all over the South West. It is largely aimed towards U10, U12 and U14 level players who fit tennis around their education, many of whom go on to join the IHPC or university teams.
The Access programme is an excellent way to discover whether the Academy is the right step for a player to take in future years. Our Access players train part-time in the academy whilst studying full-time and often supplement their training at other venues.
For further details about how our programme works, see our Programme information and education partners page.
Mini tennis and Elite 11s
As part of a complete high-performance pathway, our Elite 11s programme has been extended to include an enhanced programme for 9-to-11-year olds who are showing ability and desire to increase their training.
Our minis programme offers an introduction to becoming a performance player, with players possibly evolving into our Team Bath Academy programme. This programme provides our very young players with a high-class training environment that is both enjoyable and demanding.
For further details about how our programme works, see our Programme information and education partners page.
University
There is a full and competitive university match programme with teams competing in BUCS leagues throughout the year. The club has two men's and two ladies' teams which compete in these BUCS leagues every Wednesday.
Both of the first teams are consistently challenging for the top honours in university tennis. The women's team has won the BUCS Championship the past three years and the men were 2015 runners-up.
University players often have the opportunity to train in sessions with our touring and academy players.