Tot activities (2-7 years)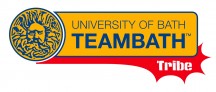 Team Bath Tots activities offer fun and energetic multi-skill movement sessions to encourage young children to play.
Our aim is to provide a fun-first experience of sport and inspire the next generation.
Tots sport programmes – September to December 2018
Weekly timetable: September 10 to December 15 2018 – click to enlarge
Other sport programmes
Team Bath also offer youth programmes which are directly run by sport clubs themselves:
Tennis: See the full list of tennis courses on the tennis Courses and Classes web page.
How to book
Please call our bookings hotline on 01225 386915 between 9am-5pm, or email tribe@bath.ac.uk.
Facebook page
Like our Facebook page to keep up to date with the latest Tots news.
Tennis coaching, courses & classes

Team Bath provides a host of tennis courses and classes for all ages. Sign up to mini orange, mini red, development green or our junior development programme. Check out what is on offer.

Read More

Tribe activities (7-14 yrs)

We offer regular weekly Tribe classes throughout the school terms providing participation and development courses in a safe and inspiring environment in various sports.

Read More

Holiday activities

During the school term breaks, Team Bath Tribe deliver academies and camps for talented, developing, aspiring and novice performers.

Read More