Emmanuel Nartey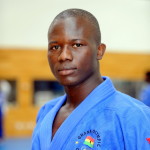 Weight: under-73kg
Dan Grade Level: 2nd Dan
Date and Place of Birth: 1983, Accra, Ghana
Coached by: Juergen Klinger
Date arrived at Team Bath: 2004
Club: Team Bath, Army Judo Club
Occupation: Soldier
Biography:

Serving British Army soldier Emmanuel took up judo in 1992 and since 2004 has been training here at Team Bath, competing at one Olympic Games and 11 World Championships during a memorable career.
Emmanuel made history in 2012 when he became the first judo player to represent Ghana at an Olympic Games. He came up against Dex Elmont, a Dutch double World Championship medallist, in the opening round of the under-73kg class and it was the Dutchman who progressed.
In 2005 Emmanuel became the first Ghanaian Judoka to contest the World Championships, held in Cairo. He also represented his country at the Glasgow 2014 Commonwealth Games.
He has produced some impressive performances over the years, including a bronze medal at 2013 African Championships in Mozambique and another bronze at the Asian Open World Cup event in Chinese Taipei.
But arguably his best result came when he won bronze at the Pan-American Open in Argentina in March 2013, beating Russia's London 2012 Olympic champion Mansur Isaev in the battle for bronze.
As well as combining competing on the international stage with his career as a soldier in the Royal Tank Regiment, Emmanuel has also completed a PhD in International Law and Human Rights Law.
Career highlights:
Selected to represent Ghana at Commonwealth Games in Glasgow, 2014
Bronze – Under 73kg, Pan-American Open, Buenos Aries, Argentina, 2013
Selected to represent Ghana at Olympic Games in London, 2012