Opportunities for schools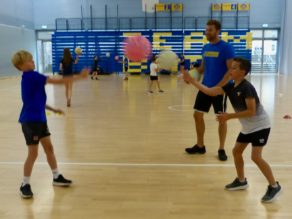 School groups of all years can tailor their own experience at the University of Bath.
More than 2,000 pupils from year groups 1-13 explore the sporting facilities annually, taking part in multi-skill assessments, fundamental movement skills, sports specific sessions, career guidance and athlete question and answer sessions.
The tailored programme can be for a one-day visit, normally for four one-hour sessions, or visits can be created over several days with guidance on accommodation options.
Contact
For more information or to book your group's experience, please contact Jess Clements: J.C.Clements@bath.ac.uk
Sport Science visits
Want to see Sport Science in action? We offer schools the chance to provide their students with the opportunity to learn more about the science of sport and how it is applied to elite athletes. Click here to find out more.
Work experience
From October to April each year, Team Bath offers work experience placement opportunities within various departments for school and sixth-form students under the age of 18. Click here to find out more.