Additional Support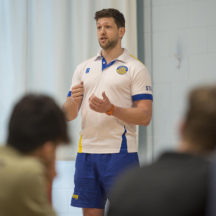 The Athlete Development programme offers athletes and their parents/guardians additional support services through the delivery of workshops covering nutrition and life skills advice. Parents/guardians are given an introduction to the principles and practice of supporting and advising talented athletes in managing their personal development and lifestyle.
Workshops are delivered to parents bi-annually at the athlete testing days. While athletes carry out their testing, parents are invited to attend the hour-long workshops and have the opportunity to ask questions or share any topics for discussion.
One-to-one meetings can also be arranged with our practitioners to discuss any ongoing issues or requirements.
Go to: