Team Bath Futures: Athlete Development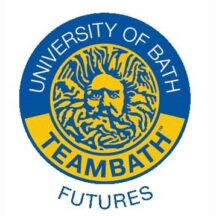 Team Bath Futures: Athlete Development is the family of activities and services targeted at youth athlete development. It ranges from research into growth and maturation to the coaching of children within physical activity or sport and the prevention and management of injuries.
The aim is simple: to provide the highest level of care and service for talented athletes from School Years 5-13 in order to encourage development and participation in sporting/physical activity throughout the entirety of life.
Team Bath Futures Next Gen
A new programme for 2023-24 and based around the holistic development of young aspiring athletes, these sessions are for children in School Years 5, 6 or 7 who are currently playing and training regularly for school or grass roots club.
Athletes will be exposed to a broad range of different physical qualities such as movement, speed and agility, and motor skills such as sprinting, jumping, catching and balance to provide an all-round foundation on which to build sporting potential. Each child will receive a Growth and Maturation report and Next Gen athlete profile each term.
Sessions take place from 4.45-5.45pm on Tuesdays and Thursdays during term time. Applications are now open to join the programme in January 2024, with an application deadline of Friday 1st December 2023. For more information and to apply please email Futures@bath.ac.uk.
Team Bath Futures Blue and Gold Programmes
The Blue Programme is for talented youth athletes in School Years 7-9 and Gold Programme for those in School Years 10-13.
The Blue Programme introduces young athletes to regular physical training, using a large variety of movements. The focus is on building strong fundamental movement skills and body awareness.
The Gold Programme builds on the skills and movement competencies from the Blue Programme, creating an all-round athletic toolbox with the ultimate aim of preparing athletes for the transition into adult training and competition.
Programmes are created bespoke to the athlete and their sporting development needs but all participants are provided with:
Physical development training.
Nutritional, lifestyle management, psychology, injury prevention and wellbeing support.
Our philosophy
Athlete development is centred on the enhancement of sound fundamental movement competencies of core patterns and technical skills. Improvement of physical performance is strived for with a long-term athletic development framework in mind.
Our aims
Create a full athletic toolbox – improving fundamental and advanced technical skills;
Enhance movement capabilities and co-ordination;
Improve all physical capabilities of strength, power, speed, agility, balance and flexibility;
Reduce risk of injury;
Enhance decision-making processes and the ability to adapt to situations;
Develop an understanding of elite training and the responsibility that comes with this;
Enhance other areas of long-term athletic development: well-being; nutrition; psychology; lifestyle support.
Timetable
Find out more
Email futures@bath.ac.uk or follow us at Instagram.com/teambath_futures/.