Major Games and Events
Stars prepare for Rio 2016
With the successes of London 2012, Sochi 2014 and the Commonwealth Games in Glasgow behind them, athletes with University of Bath links now turn their attention to Rio 2016.
Our world class centre for performance athletes aims to provide an elite training base for athletes to prepare for major international competitions such as Rio, with state-of-the-art training facilities, industry-leading sports science labs and highly qualified coaches all under one roof.
Find out about our prospective Rio athletes on our Rio 2016 page.
Glasgow 2014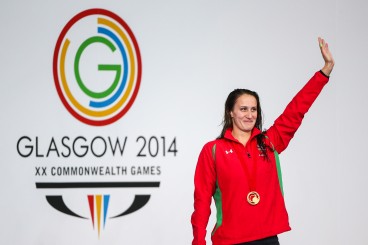 More than 70 athletes based at the University's Sports Training Village competed in Glasgow – winning an impressive 27 medals.
Athletes with University of Bath links won medals on nine of the 11 days of sport at the Games, winning medals in athletics, badminton, hockey, judo, swimming and weightlifting.
You can read a full Glasgow 2014 Commonwealth Games round-up on our website.
Sochi 2014

London 2012 was a special event for athletes with ties to the University, but at the Sochi 2014 Olympic Winter Games athletes with University of Bath links excelled again.
16 Bath-based athletes represented their country in Russia, bringing home two gold medals – one in Olympic competition and one in the Paralympic Games.
You can read a full Sochi 2014 Winter Olympics round-up on our website.
London 2012

The University of Bath played an exciting role in the lead-up to London 2012, helping individual athletes and teams prepare for the challenge of the biggest sporting show on earth.
Some 25 athletes who train at the University were selected to compete at the London 2012 Olympic Games across seven sports, with six athletes selected for the Paralympic Games across three sports.
Five athletes with connections to the University's Sports Training Village won medals, and a further five medals were picked up over the course of the Paralympic Games by athletes based at Bath.
You can read a full London 2012 Olympics round-up on our website.
An impressive track record
The Team Bath family is always delighted when athletes achieve their goals.
Many athletes have won Olympic, Paralympic World, European and Commonwealth medals and titles from the training base at the University of Bath.
Read an impressive track record of success for further details of past successes achieved by Bath based athletes.