PyeongChang 2018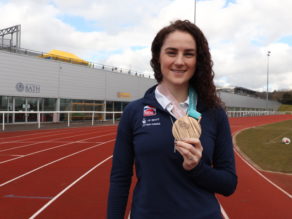 There was once again a strong University of Bath interest at the 2018 Winter Olympic Games PyeongChang, South Korea, as 16 athletes who train here competed on the biggest stage of all – three of them winning medals.
Athletes from the University-based British Bobsleigh & Skeleton Association (BBSA) had been hard at work at the Sports Training Village, using the Team Bath Gym and the University's unique outdoor push-track to hone their preparations for the Winter Olympic Games.
And it paid off in spectacular style for Britain's superb skeleton racers, who enjoyed an incredible Olympics – winning three medals for Team GB to make it seven in total from the past five Winter Games for BBSA sliders training at the University.
Lizzy Yarnold made history by successfully defending the women's title she won at Sochi 2014 and was joined on the podium by team-mate Laura Deas, who claimed bronze. University of Bath Mechanical Engineering PhD student Dom Parsons also secured a podium place, his bronze being the first by a Brit in the men's competition since 1948.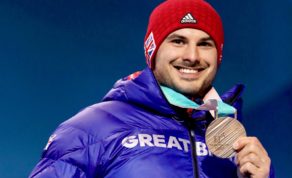 Slider Jackie Narracott, who trains at the University with sprint coach Rob Ellchuk, represented Australia in the women's competition, finishing 16th overall, and Sports Performance graduate Lloyd Wallace, supported by a Team Bath service support grant, was 20th on his Olympic debut in aerial skiing – a remarkable effort as it came almost six months to the day after he was placed in an induced coma following a training accident.
Mica McNeill and Mica Moore achieved Team GB's best-ever women's bobsleigh result as they finished eighth, while Brad Hall and Joel Fearon were 12th in the two-man competition. The four-man crews finished 17th and 18th overall.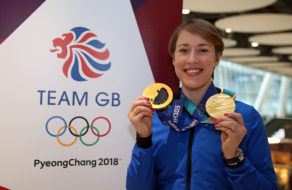 In the Winter Paralympic Games, Mathematics graduate Kelly Gallagher competed in the alpine skiing with guide Gary Smith – she had made history at Sochi 2014 when she became the first British athlete to win a gold medal on snow in either Olympic or Paralympic competition when she topped the podium in the women's super-G.
She was unable to medal on this occasion but finished fifth, sixth, seventh and eighth in her four competitions – a fine effort considering she had suffered a serious injury in training in 2017 and had only recently returned to the slopes.
Full results from both the PyeongChang 2018 Winter Olympic and Winter Paralympic Games can be found by clicking here.
Selected athletes (Team GB unless stated, * denotes graduate)
Aerial skiing: Lloyd Wallace*.
Alpine skiing: Kelly Gallagher (ParalympicsGB)*.
Bobsleigh: Greg Cackett, Lamin Deen, Joel Fearon, Nick Gleeson, Brad Hall, Andrew Matthews, Mica McNeill, Mica Moore, Toby Olubi, Ben Simons.
Skeleton: Laura Deas, Jackie Narracott (Australia), Dom Parsons, Jerry Rice, Lizzy Yarnold.
The history of bobsleigh and skeleton training at the University of Bath