Student swimming
The University of Bath Swimming Club caters for a range of abilities, from fitness swimming through to international and Olympic representation.
Based at the Team Bath Sports Training Village's 50m Olympic legacy pool, the student swimming programme strives to help swimmers progress to their maximum ability and ultimately compete in BUCS, World University Games and other high-profile competitions.
However, the club also offers opportunities for swimmers of any ability or goals to be involved.
Recreational swimming
A fun and relaxed group of swimmers with complete flexibility over training times. Looking to improve your fitness or get back into swimming? This is the squad for you. The club attend several competitions each year and are looking to expand this squad to cater for more swimmers.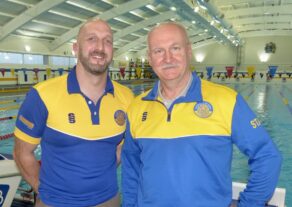 Performance swimming
This programme continues to produce and support swimmers who have competed successfully at the highest level whilst at the same time, gaining a degree from a world-class university which prides itself on academic quality and supporting students successfully into employment upon graduation. University programme swimmers have won medals at the World Championships, World University Games (second largest multi-sport event after the Olympics), European and Commonwealth Games, and competed at Olympic Games.
The aim for our performance programme – led by Head of Swimming Mark Skimming and Dr Andrei Vorontsov, Olympic coach to Russia in 2012 and Sweden in 2016 – is to compete at senior national and international level, while balancing this with the successful completion of a degree and graduating from university having had a great experience and being a rounded and well balanced person.
The average grade a swimmer from the performance programme comes out with is a 2:1 with honours, with an average of a 4% increase in performance over the 3 years.
For more information about the programme, the squad structure and how to apply for the performance or recreational squads please click on this link. 
Click here to visit the University of Bath Swimming Club's page on The SU Bath website.
Welfare officer
Welfare Officer for swimming – Greg Sharp: Email adsgas@bath.ac.uk or call 01225 386907.