Performance Mini Tennis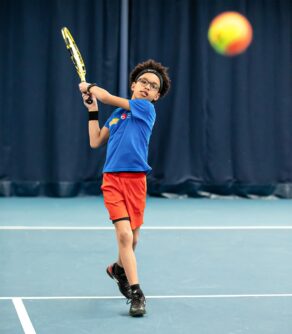 Mini Tennis provides the perfect opportunity for kids to learn the fundamentals of the game while also having fun. Players can learn the skills, techniques, tactics and movement patterns required to become a performance player.  
Team Bath's Mini Tennis programme has a performance strand that runs from Mini Red (for players aged eight and under) through to Mini Green, with the aim of players progressing onto yellow ball tennis and joining the Regional Player Development Centre (RPDC).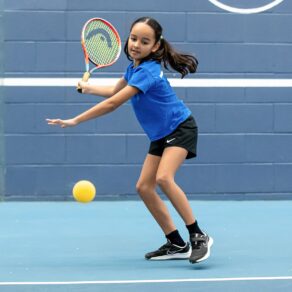 The programme follows the principles of:
Beat the bounce: Encouraging players to work hard to get behind the ball and be ready to receive the incoming ball. This ties in with athletic movements and the perception of the incoming ball.
Consistent contact points: Players to be able to consistently contact the ball between waist and shoulder, and have repeatable swings.
All-court player: To learn the skills to become a complete tennis player.
360-degree athlete: Players should look to become rounded athletes and develop athletic skills above and beyond tennis.
As players progress and develop they will be introduced to the wider academy principles of:
Hitting at the top of the bounce;
Moving through the ball;
Following a good hit (transition to the net);
Attacking second serves.
Performance Mini Tennis players have the chance to participate in one-to-one coaching, group sessions and match play. We believe this programme gives players the chance to imbed the fundamentals needed to be selected for our RPDC.
If you are interested in joining the program or any further information please email Tom Powell: tgdp20@bath.ac.uk.