Clubs
The University of Bath is associated with a number of clubs who make use of the facilities at the Sports Training Village.
Team Bath Aquae Sulis
Team Bath AS is a network hub, run by a voluntary committee, which draws its membership from 10 local home clubs in Bath, Somerset and West Wiltshire to provide a structured pathway for local swimmers of all levels to realise their maximum potential.
Based at the University, the Team Bath AS network is the largest of its kind in the country with participatory membership of the home clubs running to many thousands.
The performance programme is served by two squads (regional and national) and has a membership base of around 100 swimmers whose training is overseen by head coach Chris Alderton.
The club is proud to have as its patron Sharron Davies MBE who said: "We have realised after London 2012 that nurturing talent is essential and our kids now can aspire to be the best they can be, and take on the world. Clubs like this do exactly that and help so many on their journey. Swimming is a life skill as well as a fantastic sport and it has been a wonderful plus in my life."
To find out more, visit the Team Bath AS website.
Team Bath Synchro Club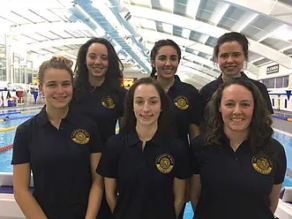 Team Bath Synchro Club was established in September 2016 with the belief that synchronised swimmers should have the right to continue their athlete career alongside their higher education.
Based at the STV, the club strives to become the leading elite synchronised swimming club in the country, and is led by multiple national champion Ilaria Brandimarte.
The club offers a complete training programme for junior, student and masters swimmers to ensure athletes reach their full potential and is open to synchro swimmers of all ages and abilities. Regular Learn to Sync sessions also take place throughout the year.
To find out more, visit the Team Bath Synchro Club website.