Paris 2024
After enjoying the most successful Olympic and Paralympic Games yet at Tokyo 2020, athletes who train and study at the University of Bath are working hard towards achieving their ambitions at Paris 2024.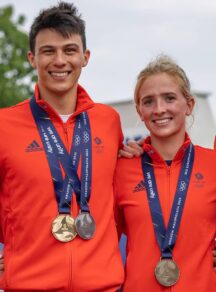 The Olympic Games will take place from 26 July to 11 August 2024, followed by the Paralympic Games from 28 August to 8 September 2024.
Setting the standard
Pentathlon GB's Olivia Green was the first University of Bath-based athlete to achieve the Paris Olympic qualifying standard when she won women's individual bronze for Team GB at the 2023 European Games in Poland. Defending Olympic Champion Joe Choong secured another quota spot for Britain when he won silver in the men's individual competition later that afternoon. Click here to read the full report.
Team-mate Kerenza Bryson then achieved the standard herself by winning women's individual bronze when the University of Bath hosted the 2023 UIPM Pentathlon World Championships, a qualifying event for the Paris Olympics. Read more about the event here.
Countdown to the Games