University Club Programme
The University of Bath tennis club gives students performing at a mid-to-good level the opportunity to train and further their interest in the sport (click here for details of the high-performance student programme).
Our club programme
The club welcomes players of all abilities and encourages them to meet other tennis players of a similar standard through
The provision of court time
The provision of club coaching sessions
Coaching Clinics
Club championships
Ladder Leagues
Cardio Tennis
Touch Tennis
Social nights

Coaching timetable
Our coaching timetable consists of a structured four-tiered programme. There are coaching sessions for Beginner, Improver, Intermediate and Advanced players. These run on a term-by-term basis.
Contact University Tennis Coordinator Francesca Begg (Fb562@bath.ac.uk) for more information and/or to book onto your course. Payment must be made at the Sports Training Village reception before starting the course.
| | | | | |
| --- | --- | --- | --- | --- |
| Course | Day | Time | Ability level | Cost* |
| Beginner | Tuesday | 13.00-14.00 | Never played before, seen it on the tv! | £50.00 |
| Improvers | Tuesday | 13.00-14.00 | Played a bit, but a little bit rusty | £50.00 |
| Intermediates | Wednesday | 08.00-09.00 | Competent player, likes to play matches | £50.00 |
| Advanced | Thursday | 13.00-14.00 | Strong club player, missed out on BUCS | £50.00 |
| Intermediates | Friday | 13.00-14.00 | Competent player, likes to play matches | £50.00 |
Weekly timetable
Each week we have a wide range of activities for all levels. Please see the below timetable to see when and where you need to be for your sessions.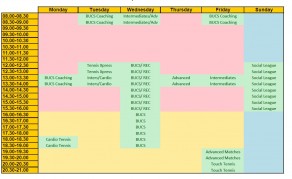 Wednesday Afternoons – free supervised social play on the outdoor courts before the Wednesday night social. This was the most popular session last year and runs from 1pm-4pm (weather permitting).
Touch Tennis Club Night – Relaxed, fun touch tennis games/tournaments. Come and try it out for yourself on a Friday on the indoor courts 8-9pm.
Advanced Matchplay – A chance to play some singles and doubles on the inside courts on a Friday evening.
Ladders and Social Leagues – We have opportunities for matchplay through ladders/box leagues. This year we are introducing Social Tennis Leagues, so that you can get regular matchplay throughout each semester. Make sure you sign up soon!
Tournaments/Events – each semester we host some kind of tennis event; with Christmas touch tennis and the Club Championships being the club favourites for the last few years.
University Tennis Club Committee
Club Chair: Alex El-Nemer
Secretary – James Low
Treasurer – Miren Shah
Recreational Officer- Scott Heiron
Social Secretaries – Jake Foster-Ramsden & Tom Godwin
Competition Organiser – Matt Leedham
Kit Officer – Alisa Cole & Matt Slater
Committee Mission Statement:
1. To aim to provide the opportunity and support structure to allow for participation of the maximum number of members in every aspect of the tennis club
2. To aim to provide opportunities and a support structure for all members to perform at the highest level possible
University tennis coordinator
The flagship of the Tennis Foundation's University strategy is the University Coordinator (UTC) programme to develop tennis through creating opportunities for students to play, compete and receive the latest training packages as volunteers or coaches.
For information on the above schemes please contact Alex Walker.