Bath City U21 development link
A unique relationship between the University of Bath and Bath City FC means that talented players in our football programme have the opportunity to play in City's under-21 development squad with the chance to feed directly into the first-team squad at Twerton Park.
Both City and the University provide players for the development team who play matches against development squads from Football League teams.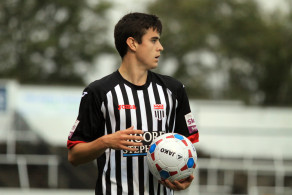 University of Bath graduate Dan Bowman made almost 50 appearances for City's first team thanks to the partnership, having first impressed in the development side.
After its forming in 2011, then Bath City manager Adie Britton described the partnership as "the most exciting footballing development that has happened in my seven years at the club."
Selected players have additional regular training sessions and their progress is monitored, giving the players the opportunity to progress into the first team.
Apply now
Players wishing to get involved in the development squad must be students at the University of Bath.
To register your interest, please email Che Wilson with your previous playing history at c.c.a.wilson@bath.ac.uk.