Facilities
Sports Training Village
Our renowned £30 million Sports Training Village (STV) on campus houses sport, fitness, coaching, physio and sport science facilities all largely under one roof.
The STV has indoor and outdoor facilities to accommodate more than 50 sports and, as well as being a world-class multi-sport training environment, regularly hosts major international competitions such as the Fed Cup tennis and Modern Pentathlon European Championships.
Take a virtual tour of the STV
Host an event or book a facility
---
Our facilities include:
Take a walk through our facilities…

See a map of the campus and Sports Training Village on our Virtual Tour page.
Our facilities are accessible to people with disabilities. To find out more contact the STV's main reception on 01225 386339.

---
Team Bath Arena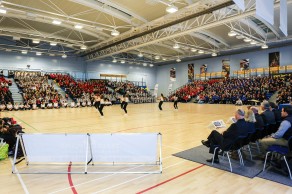 The 2,000-seater Team Bath Arena regularly hosts televised netball Superleague matches and other top events, such as the annual Strength in Depth competition. It has a flexible seating configuration making it ideal for sports events, concerts, awards ceremonies, conferences, corporate events, exhibitions and much more.
We can arrange audio visual and PA systems and catering, as well as offer event management services.
For further information please visit our events pages and contact the Events Team.
---
London 2012 Legacy Swimming Pool
Opened by Olympic silver medalist Michael Jamieson in 2015, our 50m swimming pool – used by Olympic, World and Commonwealth medallists, as well as open to the public on a daily basis – features the very latest technology, including a modernised plant room which ensures that the pool water circulation system operates efficiently.
The pool tank also contains a £30,000 state-of-the-art camera system which allows elite swimmers to analyse their stroke in training.
---
Team Bath Gym & Fitness Centre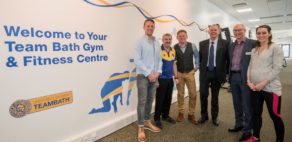 The Team Bath Gym & Fitness Centre has been extensively refurbished and more than doubled in size during the past three years, with a two-storey extension opening to students, staff and the public in February 2019.
The new facility – which has taken the total gym capacity at the Sports Training Village to 1,536 square metres – includes a spacious upper floor with natural light plus two dedicated studio spaces for group exercise classes, with 100 taking place every week. There is also a free weights area, lifting platforms with a solid wooden floor and a functional area featuring battle ropes, rip trainers, slam balls and more.
It adds to and compliments the existing gym facilities which had received an extensive refurbishment in the summer of 2016. All of the zones feature state-of-the-art equipment from Matrix Fitness UK and our gym's technology includes aura strength products, S-Drives, Functional Trainers and Krankcycles, plus 7xi generation products including treadmills, ellipticals, upright bikes, ascent trainers and ClimbMills. There is also a rig, rowing machines, strength stations and a range of free and fixed weights.
In addition to the public exercise facilities, there is also a separate High-Performance Gym which is used exclusively by elite athletes on Team Bath's sport programmes to fine-tune their workouts with the help of strength and conditioning coaches.
---
Outdoor and indoor athletics tracks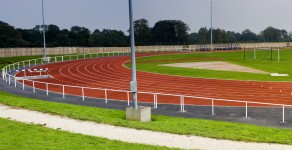 On our Sports Training Village campus, we have an outdoor floodlit 400m athletics track as well as an indoor sprint track.
Our world-class track and field facilities are open to the public, meaning young athletes and recreational and club standard athletes can train at the same venue used by Olympic standard competitors.
---
Indoor, outdoor and clay tennis courts
The STV houses eight indoor, four outdoor and two clay courts, all within close proximity.
We are often a chosen venue for Aegon GB Pro-Series competitions, drawing some of the most talented players from around the world, and in February 2019 we successfully hosted the first Fed Cup tie to be staged in Great Britain for 26 years.
Our courts are also available to members of the public and young players wishing to play recreational tennis.
---
Hockey, football, rugby and cricket pitches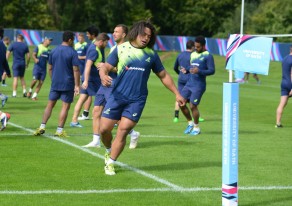 The STV is home to more than 20 hockey, football, rugby or cricket pitches, including two all-weather and floodlit hockey pitches.
Our six dedicated rugby pitches are often utilised by international squads such as Australia ahead of the 2015 Rugby World Cup (left) and England during the 2016 Six Nations.
---
Judo dojo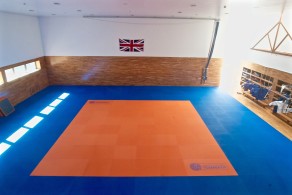 The inspirational setting of our martial arts dojo at the Sports Training Village is the hub of Team Bath's judo activities.
Based on a traditional Japanese style, the dojo has been a training base for some of Britain's top judoka, including double Olympic medallist Kate Howey, Olympic silver medallist Gemma Gibbons and Olympic athletes Emmanuel Nartey and Ben Fletcher.
It is also used by student groups and for our Team Bath Tribe judo sessions.
---
The UK's only push-start track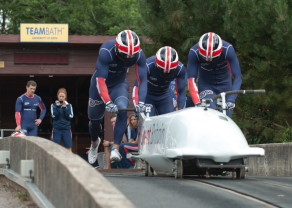 The University of Bath is home to the UK's only bobsleigh and skeleton push-start track, used by British Bobsleigh and Skeleton Association athletes who base their training here.
Our 140m push-start track enables Britain's bobsleigh and skeleton athletes to hone their starts away from the ice. Since it was opened in 2002, skeleton athletes have won seven medals for Team GB at the Winter Olympic Games including gold-medallists Amy Williams (2010) and Lizzy Yarnold (2014 and 2018).
In 2015, the track was refurbished to feature a sophisticated braking mechanism to improve training safety and comfort.
---
Other world class facilities
Our range of other facilities – including a jumps and throws hall, fencing salle and hydrotherapy pool – are all available for public use and can be hired on a personal or large event basis.
For full details on availability and prices, see our Opening Hours and Prices pages.
---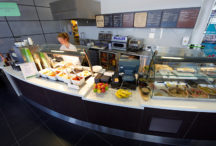 Sports Cafe
A café in the Sports Training Village serving healthy hot and cold breakfasts, sandwiches, bagels, pasta and frozen yoghurts, as well as smoothies, shakes, coffee and tea. It is fully open to the public, as well as students, sportspeople and staff.
---
Sulis Club
The Sulis Club is located about a mile away from the University of Bath's Claverton campus and features grass sports pitches and some changing rooms, as well as on-site car parking.
To book the Sulis Club pitches please email Judy Higgs or call her on 01225 385192.
---
Our brochure
Download our brochure [PDF] for an in-depth look at our stunning facilities here at the University of Bath.
Book now
If you are looking to use our facilities for an event, please get in touch with our events team to discuss what we can do to make your event a success.
To book our courts, pitches and equipment for personal use, please find the relevant facility under the Sports menu, call reception on 01225 386339 or contact the appropriate member of our facilities sales team directly via the details below.
Virtual tour

Don't just take our word for it; take a look around the Sports Training Village and some of the leading facilities we have here by taking our Virtual Tour.

Read More

Physio and sport science

Our team of highly qualified therapists and practitioners offer cutting-edge services whether you are an elite athlete or a fun-runner.

Read More