Team Bath Gym & Fitness Centre
Current status
Updated hourly
Very Quiet

Moderately Quiet

Average

Moderately Busy

Very Busy
The Sports Training Village is home to the Team Bath Gym & Fitness Centre – which more than doubled in size in February 2019 to 1,536 square metres with the opening of a new two-storey extension – and a High Performance Gym. All of the exercise zones feature state-of-the-art equipment to help users of any ability achieve their fitness goals.
Three dedicated fitness zones
There are three zones to the Team Bath Gym & Fitness Centre, each of them available for use by students, staff and members of the public. All are kitted out with state-of-the-art cardiovascular equipment – including treadmills, exercise bikes, cross trainers and step machines – powered by Matrix Fitness, whose technology allows users to synchronise their workouts with our dedicated Team Bath Active app. In total, there are around 100 stations available for use across the three zones.
There are also two studio spaces in the two-storey extension, providing scope for 100 group exercise classes every week.
Click on the images below to expand.
Zone One
Located on the ground floor of the Sports Training Village, this facility was extensively refurbished in the summer of 2016 and features, as well as the Matrix cardio facilities:
Eight Wattbikes
Four lifting platforms
Four squat racks
Five bench-press stations
Gym rig
Eight rowing machines
A large range of free weights
Weight machines
Zone Two
Located on the ground floor of the new two-storey gym extension, this spacious facility includes:
A free weights area
Lifting platforms with a solid wooden floor
Versa Climber and other cardio equipment
Roll-out sprint track with prowler
22-bike spin studio
Zone Three
Located on the upper floor of the two-storey gym extension, this facility – as with Zone Two – benefits from natural light and includes:
A functional area featuring battle ropes, rip trainers, slam balls and more
S Force and S Drive machines
Expansive multi-function studio with sprung wooden flooring
Track your progress

Using this Team Bath Active App, gym users can record their workouts and monitor long-term progress with the option to share and compare with other users. What's more, with our app users can monitor how busy the gym is, take up regular challenges and more.

Download the Team Bath Active app:

Apple devices – www.itunes.apple.com/gb/app/team-bath-active/id1165143542?mt=8.

Android devices – www.play.google.com/store/apps/details?id=com.netpulse.mobile.teambathactive&hl=en_

The Team Bath Gym & Fitness Centre also supports MyZone technology, an easy-to-use monitoring system that measures heart rate, calories burned and effort in real time.
Free personalised programme with every membership
When taking up a Team Bath Gym membership, users receive a free individual programme as devised by our specialist gym staff.
Should they wish, users will be talked through their fitness goals and on first appearance at the gym, our qualified staff will help with demonstrations of the exercises and equipment available to best achieve those goals.
For a more bespoke and in-depth experience, why not try personal training – click here for more information.
High-Performance Gym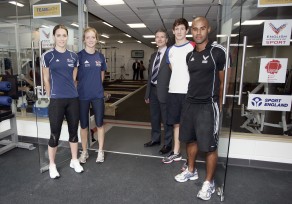 Opened in 2011, the Performance Gym is a £100,000 extension to the Team Bath Gym designed solely for performance athletes based at the Sports Training Village.
The Performance Gym was funded through a partnership between the University of Bath, the English Institute of Sport (EIS), Sport England, UK Sport and TASS, and was officially opened by former Bath students including Olympic Champion Amy William and silver medallist Michael Jamieson (pictured).
The gym has been specifically designed to meet the needs of individuals and groups of athletes on world-class performance programmes and its features include:
An integrated testing platform to give in-depth physical analyses of athletes
A video feedback system to assist in the coaching of athletes
An integrated system allowing real-time feedback to be given to athletes on strength and power output
Memberships

We offer a range of competitive gym studio, tennis and swimming membership packages to help you achieve your fitness goals in a uniquely inspirational setting. Or if you want to make the very most of our facilities and activities you might upgrade to our Team Bath+ package.

Read More

Personal training

Team Bath has qualified personal trainers for those seeking a tailored fitness package. This group of experts are available for personal consultation, using their specialist knowledge or expertise.

Read More

Fitness classes

You can step up the pace of your training or ease off and relax thanks to the diversity of our studio classes. We typically offer more than 100 classes a week, covering everything form revolution cycling, Latino aerobics and circuit training to yoga and Pilates.

Read More