Our gym
Current status
Updated hourly
Very Quiet

Moderately Quiet

Average

Moderately Busy

Very Busy
Here's a preview of what our new Team Bath Gym and Fitness Centre – officially opening on Tuesday, February 26, 2019 – will look like…
Team Bath Gym
The Sports Training Village is home to the Team Bath Gym and Performance Gym, which both feature state-of-the-art equipment to help users of any ability achieve their fitness goals.
Matrix-powered cardio equipment
Team Bath Gym's cardiovascular equipment – which includes treadmills, exercise bikes, cross trainers and step machines – is all powered by Matrix Fitness, whose technology allows users to synchronise their workouts with our dedicated Team Bath Active app.
Using this technology, gym users can record their workouts and monitor long-term progress with the option to share and compare with other users. What's more, with our app users can monitor how busy the gym is, take up regular challenges and more.
Download the Team Bath Active app:
Apple devices – www.itunes.apple.com/gb/app/team-bath-active/id1165143542?mt=8.
Android devices – www.play.google.com/store/apps/details?id=com.netpulse.mobile.teambathactive&hl=en_
Other equipment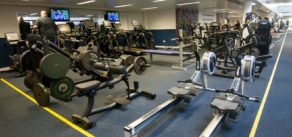 On top of our state-of-the-art cardio facilities, our gym has:
Eight Wattbikes
Four lifting platforms
Four squat racks
Five bench-press stations
Gym rig
Eight rowing machines
A large range of free weights
Weight machines
Image gallery (click to enlarge)
Free personalised programme with every membership
When taking up a Team Bath Gym membership, users receive a free individual programme as devised by our specialist gym staff.
Should they wish, users will be talked through their fitness goals and on first appearance at the gym, our qualified staff will help with demonstrations of the exercises and equipment available to best achieve those goals.
For a more bespoke and in-depth experience, why not try personal training – click here for more information.
Performance Gym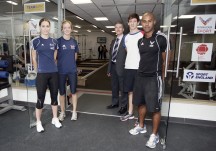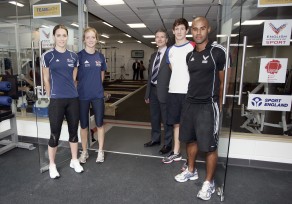 Opened in 2011, the Performance Gym is a £100,000 extension to the Team Bath Gym designed solely for performance athletes based at the Sports Training Village.
The Performance Gym was funded through a partnership between the University of Bath, the English Institute of Sport (EIS), Sport England, UK Sport and TASS, and was officially opened by former Bath students including Olympic Champion Amy William and silver medallist Michael Jamieson (pictured).
The gym has been specifically designed to meet the needs of individuals and groups of athletes on world class performance programmes and its features include:
An integrated testing platform to give in-depth physical analyses of athletes
A video feedback system to assist in the coaching of athletes
An integrated system allowing real-time feedback to be given to athletes on strength and power outputs
Testimonials
I am a local Bath resident and recently decided to join the gym. I am in my 50s and, wanting to get fit, have been thinking about joining as I live so near.

I hesitated in the past as I imagined I would feel somewhat intimidated by the athletes working out there. However I took the plunge, came a couple of weeks ago and booked in to have an induction plus a programme suggestion.

One of your staff, Matt, was assigned to me for this purpose and I just wanted to let you know how impressed I was with him. He had an excellent manner, was extremely personable and had just the right approach for what I needed. He put me at ease straight away, gave very clear demonstrations of the equipment, and understood my needs perfectly.

Far from feeling intimidated, I came away feeling so encouraged and enthused! I have a clear programme that is manageable as well as challenging.

I can't speak highly enough of Matt and his approach for someone like me, who does not fit into your usual client category of student or athlete so I felt I wanted to let you know, and to pass on my thanks to him.

Sharon Jackson

When I joined the gym I had been using two crutches for six years after undergoing spinal surgery as a result of a cycling accident. I read that para-athletes had trained at Team Bath and I thought that maybe it was possible that they would work with me.

My personal goal was simply to find a way to find a better way to manage my pain but Joni, the physio, told me I was aiming too low – she encouraged me to exercise not just within in the limits of my disability but to also challenge them. 

Team Bath introduced me to an amazing and inspirational trainer,  Sandra Smith. In our first session she said she was going to get me using just one crutch and I laughed as my doctors had told me I needed to accept my limitations. However, Sandra took me back to basics, teaching me to balance and move effectively; taking time to correct my posture and technique.

She has consistently challenged me and, along the way with a lot of sweat and laughter, two crutches became one and then none. Surprisingly she also introduced me to weightlifting. When she first suggested it I thought she had finally lost the plot but I love it – my body is strong and I feel strong. I have finally learned to love my body for what it is capable of.

I cannot think of any other place which would have allowed me to achieve all that I have achieved, where the staff are so supportive and where there is  such a willingness to compensate for physical challenges.

Carrie Fletcher (click here to read her testimonial in full)
Memberships

We offer a range of competitive gym studio, tennis and swimming membership packages to help you achieve your fitness goals in a uniquely inspirational setting. Or if you want to make the very most of our facilities and activities you might upgrade to our Team Bath+ package.

Read More

Personal training

Team Bath has qualified personal trainers for those seeking a tailored fitness package. This group of experts are available for personal consultation, using their specialist knowledge or expertise.

Read More

Fitness classes

You can step up the pace of your training or ease off and relax thanks to the diversity of our studio classes. We typically offer more than 35 classes a week, covering everything form revolution cycling, Latino aerobics and circuit training to yoga and Pilates.

Read More