Prices and bookings
Memberships
Members of the public, staff and students at the University of Bath can access our facilities for fantastic value with a Team Bath membership. Alternatively, facilities can be accessed on a pay-as-you-go basis (see below).
Public and University of Bath staff prices for pay-and-play access to our facilities at the Sports Training Village can be found by clicking here.
All facilities can be booked by staff up to three days in advance. Full pricing details can be found below.
Facilities bookings
Students looking to book astro pitches, badminton courts, basketball courts, squash courts or indoor volleyball courts should contact the relevant sports hall reception (see below).
Non-students looking to book these facilities should contact the facilities bookings office (see below).
For group/court bookings (student and non-student) of beach volleyball, netball, tennis, indoor football/futsal, swimming pool, dojo and indoor jumps and throws hall facilities, contact the facilities bookings office.
For pay-and-play use of the swimming pool and athletics facilities, contact the STV reception on 01225 386339 – click here to check out our public SwimFit timetable and see when lanes are available.
Sports Training Village reception – 01225 386339
Founders Hall reception – 01225 386656
Team Bath Gym – 01225 383778
Facilities bookings office – see our contacts page
Fitness Classes
Our classes last for either 30 minutes or longer than 45 minutes.
Classes of 45 minutes and more cost £7.00 (concessions available).
30-minute sessions are £5.00 (concessions available).
To take a look at the latest timetable visit the fitness classes page, or to book a class visit Connect or Join@Home (above).
Alternatively, if you find you are attending a lot of classes, it may be better value for you to take out a membership with us.
For more information please visit our memberships page, email Harriet Hings or call her on 01225 385374.
The Physio and Sport Science Centre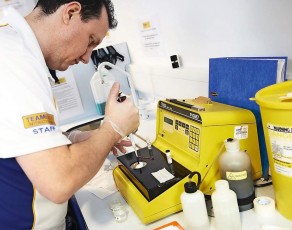 At the Physio and Sport Science Centre, our staff work with some of the best athletes in the world.
They can use that knowledge and experience to enable you to get the best out of your body.
For information on the price of the wide range of treatments and tests that we offer, please contact the Sports Injury Clinic on the details below.
Reception telephone number – 01225 383636
Email – Contact us

Judo
Grapple in the same impressive surroundings as Olympians as you enter the world-class Team Bath Dojo.
British Judo Association members may use the dojo for free during Randori sessions on presentation of their BJA card.
Non-members: £5.00
Concessions: £4.45
Concessions are: juniors (under 16), seniors (over 60), disabled customers, Alumni card holders and external NUS card holders.
Racquet restringing
At Team Bath Tennis you will find a first-rate stringing service run through the tennis team.
The tennis team are more than happy to advise you over your choice of string and the tension you want the string to be in the racquet.
Please see our string availability and prices for more information.
Non-members debit and credit card bookings
Non-members can book and pay for facilities over the phone using debit or credit cards up to three days ahead of the requested booking time.
We do not make an additional charge for credit card payments and we also offer contactless card transactions for payments under £30.
Non-member debit and credit card bookings taken over the phone are non-refundable and are not transferable.
Please note, for a quicker service from reception when booking classes, facilities or paying for courses, you may wish to avoid calling during peak times, midday to 2.00pm and 4.00pm to 6.00pm.
Online bookings and payments
Find out more about Connect, our online booking system, by clicking here.
Physio and sport science

Open to the public, we have a team of highly-qualified therapists and practitioners offering cutting edge services whether you are an elite athlete, fun-runner or simply recovering from a recent injury.

Read More

Memberships

We offer a range of competitive gym, studio classes, athletics, tennis, swimming and GOLD membership packages to help you achieve your fitness goals in a uniquely inspirational setting.

Read More

Fitness classes

Step up your training pace or ease off and relax thanks to our diverse range of studio classes. We offer over 35 classes a week, covering everything from X-biking to Latino aerobics and yoga.

Read More