Memberships
Join now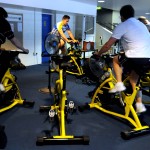 Arrange a chat and an informal look around our stunning facilities.
See our monthly and annual membership rates.
Or buy your membership directly at the Team Bath online Store.
Contact us
Sign up to a Team Bath membership – email our membership team today or
call Richard on 01225 383597 or Harriet on 01225 385374.
"I initially joined Team Bath in February 2011 as I needed to lose a large amount of weight and improve my overall health. Since then, I have lost nearly eight stone, I am stronger and fitter than I could have ever expected – the balance between fantastic facilites and knowlegable trainers has helped to change my life. Training in such a positive environment helps to motivate me when training, and even at busy times my trainers seem to have a way of building great sessions that support my goals. Special thanks to Chris and Jonny for the constant and continued support towards my goals" Peter Greenhalgh
A range of memberships
We offer a range of competitive gym studio, athletics and swimming membership packages to help you achieve your fitness goals in a uniquely inspirational setting.
Or if you want to make the very most of our facilities and activities you might upgrade to our Gold package.
Feel fantastic with our Fitness Memberships
People who join as members of our Team Bath Fitness Club at the University of Bath's Sports Training Village enjoy access to some of the world's best sports and health related facilities.
Our staff members create a great atmosphere and they are leading professionals who can give advice and support. We can work with you on:
* Weight loss
* Muscle Building
* Fitness for life
* Energising
* Toning
* Stress busting
* Stamina
* Personal training
Why not join today?
Our Gold members enjoy all-inclusive access to the Fitness Suite, swimming, tennis, studio classes and the exclusive Gold changing rooms with sauna and hydrotherapy pool. OUTSTANDING VALUE!

Discounts are available for University of Bath staff, students and Alumni. Seniors (over 65s), juniors (under 18s), couples and families also qualify.

A fit and healthy workforce is proven to help productivity. So why not take out a corporate membership with Team Bath and save your staff money.