Facilities
Team Bath proudly offers some of the best sports facilities across the UK in an inspirational environment. You may have noticed that a lot of developments are currently taking place as we strive to constantly improve the Sports Training Village. We apologise for any inconvenience caused but hope that you will bear with us and the result will be an even better environment when everything is finished.
Please find below some of the most recent developments which are either in progress or about to complete:
Installation of a new London 2012 legacy 50m swimming pool
50m swimming pool plant room and ventilation upgrades
Changing room improvements - gym and judo dojo corridor.
Physiotherapy centre upgrades
Improvements to the Southampton FC Academy offices
Athletics track refurbishment (including the laying of a new Polytan surface)
Skeleton and bobsleigh push-track upgrades
New foyer area - main entrance
Sports Training Village
The £30 million Sports Training Village is the hub of sports activities at the University of Bath, where the vast majority of sports facilities can be found 'under one roof' on the University's Claverton Down campus.

The Sports Training Village is open seven days a week for students and elite sportsmen and women, as well as public sport and recreation.
You can see things for yourself by taking our 360° virtual tour around of our facilities.
Download our brochure for an in-depth look at our stunning facilities here at the University of Bath.

On a compact site we have a range of top-class facilities:
The Sports Training Village is capable of hosting more than 50 sports and it attracts 1.3 million visitors each year.
We have further facilities nearby at the Founders Hall, which is less than 200m away from the Sports Training Village, and grass pitches at the Sulis Club, which is about a mile away from the main University campus.
Our facilities are accessible to people with disabilities.
We can adapt our sports halls to a variety of uses for a number of different sports. Top teams and individuals train here every day and we are flexible to their needs as well as to those of the public.
Team Bath Arena
The Team Bath Arena is one of the core facilities within the Sports Training Village and can host sports events, concerts, awards ceremonies, conferences, corporate events, exhibitions and much, much more.
We can provide up to 2030 seats with a choice of one, two, three or four-sided configurations.
The arena regularly hosts televised events with adaptable seating and we can arrange audio visual and PA systems and catering to meet your requirements.
For further information please visit our events pages and contact the Team.
Founders' Hall
The Founders' Hall is conveniently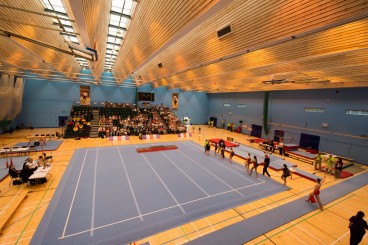 located within 200m of the Sports Training Village and is also close to catering outlets, shops and accommodation on the University of Bath's Claverton campus.
Its main focus is a multi-use sports hall with a sprung wood floor.
It can accommodate up to two basketball or netball courts, side-by-side and is also suitable for a wide range of other activities, sports and non-sports.
The Founders' Hall also features four squash courts as well as changing rooms.
Sulis Club
The Sulis Club is located about a mile away from the University of Bath's Claverton campus and features grass sports pitches and some changing rooms, as well as on-site car parking.
To book the Sulis Club pitches please email Judy Higgs or call her on 01225 385192.
Our brochure
Download our brochure for an in-depth look at our stunning facilities here at the University of Bath.
Book now
If you're looking to use our facilities for an event, please get in touch with our events team to discuss what we can do to make your event a success.
To book our courts, pitches and equipment for personal use, please find the relevant facility under the Sports menu.
Dont just take our word for it. Take a look around the Sports Training Village and some of the world-leading facilities we have here by taking our Virtual Tour.

Our team of highly-qualified therapists and practitioners offer cutting edge services whether you are an elite athlete or a fun-runner.