Performance
Led by Team Bath Director of Sport Stephen Baddeley (below, right), the University of Bath's Sports Training Village is a leading centre for performance sport, comprising state-of-the-art sport and fitness facilities, world class coaches and sector-leading sport scientists and physiotherapists all under one roof.
Over 250 international level athletes and more than 20 regional or national sport squads have based themselves at the STV or have their NGB based here. University of Bath athletes who compete via our top-five BUCS sport programme also benefit from this unique training environment.
See our:
Athlete Zone – Athletes and Coaches – Facilities – Fitness – Physiotherapy and Sport Science – Sport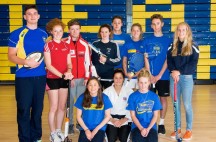 Our Athlete Zone groups information for athletes who wish to study, train or combine studying with training at the University of Bath and who are seeking to maximise their potential. We have details relating to our dual-career, scholarship, talented athlete scholarship and full-time athlete programme and our Talent Development Centre.
Athletes and Coaches
A high number of athletes and coaches who have enjoyed success at national and international level have made the STV their training home since its inception. Olympic medallists based here over the past decade include Colin Jackson, Dai Greene, Michael Jamieson and Ben Rushgrove.
Pentathlon GB base their training programme here, as do the Southampton Academy and British Skeleton. What's more, some of the UK's top coaches such as Jan Bartu, Jody Paul and Aaron James are based at the STV.
At Team Bath we are proud of our multi-sport environment based in our inspirational £30 million Sports Training Village which provides international-standard training facilities to more than 15 sports. Explore the state-of-the-art facilities at the STV, take a virtual tour of our complex or keep up with the latest developments taking place on campus via our Facilities pages.
Team Bath's STV houses fitness opportunities for athletes of any ability, from our Olympic legacy swimming pool to our outdoor athletics track and state-of-the-art gym.
Our fitness pages offer information related to our Team Bath Gym and High Performance Gym (dedicated to performance athletes), strength and conditioning services, personal training programmes and fitness testing facilities.
Our physio and sport science specialists work with performance athletes to help them achieve their goals, including services such as nutrition; injury prevention, treatment and recovery; fitness testing; and strength and conditioning support. Our video analysis and fitness testing suites offer cutting-edge performance enhancement for athletes looking to take their training to the next level.
Each of the many sports based at the STV has a unique performance sport programme designed to push elite athletes to the very highest level.
We have more than 10 full-time coaches based on campus including former Olympians and international competitors.
Our strong external links with high profile clubs like Team Bath Buccaneers Hockey, Bath City Football Club, Southampton FC and Bath Rugby Academy help blood talented athletes into professional sport.