Rio 2016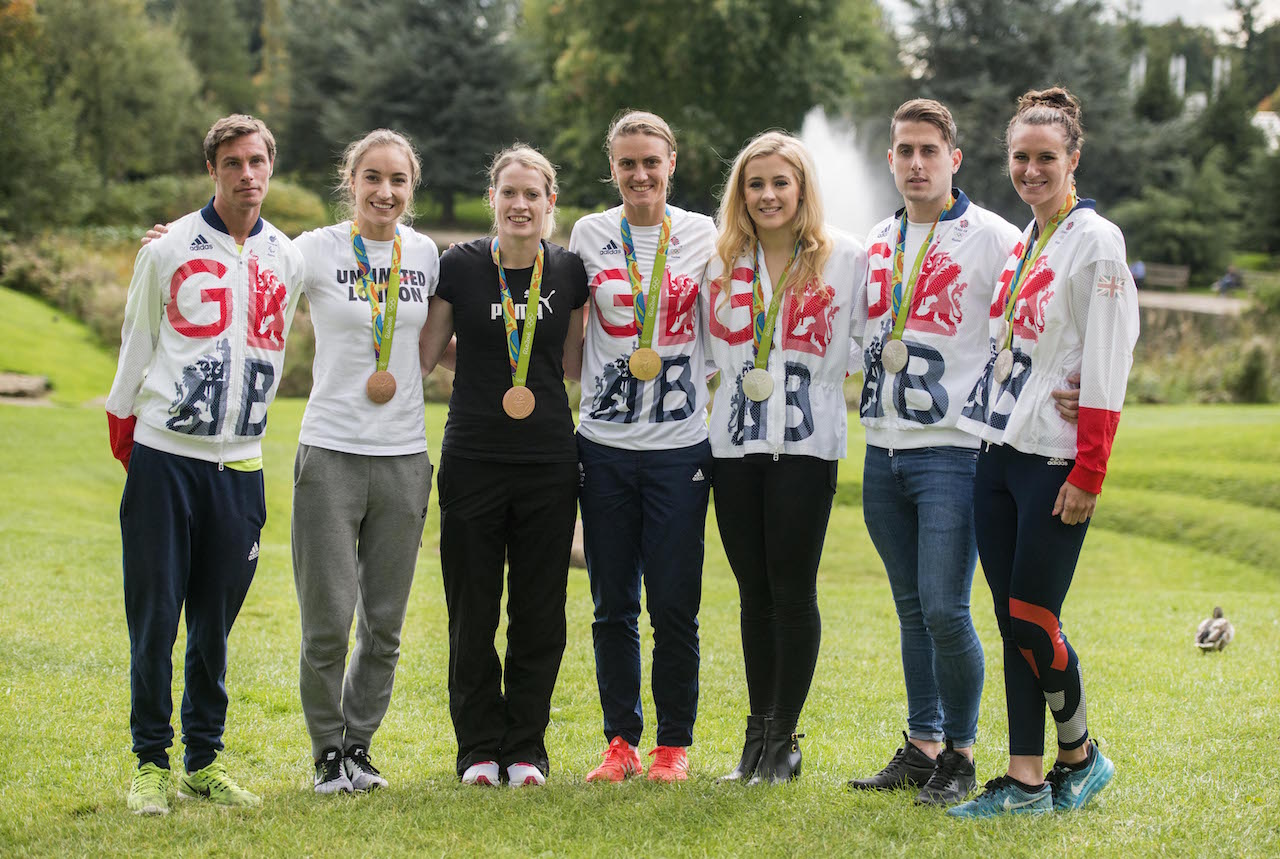 It was a summer to remember for University of Bath-based athletes past and present at Rio 2016.
Fifteen athletes currently training at the Sports Training Village competed at the Olympic Games, bringing home six medals between them.
It was then the Paralympians' turn to shine, with five University-based athletes bringing home four medals between them – including gold and silver for Paul Blake.
Blake, coached by Rob Ellchuk, stormed to T36 400m gold and was only denied a second title in the 800m by a world record. He is the third athlete to be crowned as Paralympic Champion while training at the University, emulating the success of swimmers Sascha Kindred and Matt Walker at Sydney 2000.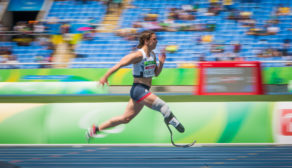 Training partner Sophie Kamlish (right) broke the T44 100m world record in qualifying for her Paralympics final, where she missed out on a podium place by just six-hundredths of a second, while 16-year-old Polly Maton – coached by Colin Barros – reached the final of both the T47 100m and long jump on her Paralympic debut.
Piers Gilliver, one of nine MJ Church sporting ambassadors, won GB's first wheelchair fencing medal for 24 years after claiming silver in the Category A epee, missing out on gold by just two points.
And Sports & Exercise Science graduate Nicole Walters, who still trains at the University, guided visually-impaired Melissa Reid to an exciting bronze medal in the PT5 para-triathlon.
The Olympic Games saw swimmers from the British Swimming National Centre Bath excel, with Jazz Carlin winning superb silver medals in both the 400m and 800m freestyle.
Siobhan-Marie O'Connor was also runner-up in the 200m individual medley and Chris Walker-Hebborn helped the GB men's 4x100m medley relay team secure silver. Andrew Willis was only denied a 200m breaststroke medal by eight-hundredths of a second – all are coached by Dave McNulty and Graeme Antwhistle.
On the athletics track, Eilidh Doyle – coached by Malcolm Arnold – and Emily Diamond formed half of the women's 4x400m relay quartet that won bronze. Eilidh also reached the women's 400m hurdles final, while Jazmin Sawyers was seventh in the long jump on her Olympic debut.
University of Bath graduates also impressed at the Games, with Hall of Fame for Sport member Heather Stanning (Sport Technology) successfully defending her rowing women's pair title with Helen Glover – both learnt to row at the University.
At the Paralympic Games, Alexandra Rickham (Natural Sciences) and sailing partner Niki Birrell won bronze in the SKUD18 two-person keelboat for a second successive Games.
Selected athletes (* indicates University of Bath graduate)
Athletics: Paul Blake, Lawrence Clarke*, Emily Diamond, Eilidh Doyle, Sophie Kamlish, Polly Maton, Andrew Pozzi, Jazmin Sawyers, Danny Talbot*.
Badminton: Heather Olver*.
Judo: Ben Fletcher.
Modern Pentathlon: Joe Choong, Jamie Cooke, Kate French, Samantha Murray.
Para-triathlon: Nicole Walters.
Rowing: Heather Stanning*.
Rugby sevens: Natasha Hunt*, Amy Wilson Hardy*.
Sailing: Alexandra Rickham*.
Swimming: Jazz Carlin, Siobhan-Marie O'Connor, Chris Walker-Hebborn, Andrew Willis.
Tennis: Marcus Daniell.
Weightlifting: Sonny Webster.
Wheelchair fencing: Piers Gilliver.
Wheelchair tennis: Louise Hunt*.