University teams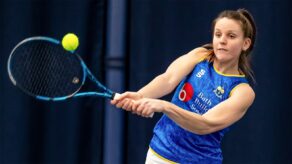 Students wishing to combine a world-class education at the University of Bath with training and competing at national and international level can do so through the University Performance Programme at Team Bath Tennis – named as University of the Year at the national 2020 LTA Tennis Awards.
Players participate in team training sessions and compete in BUCS (British Universities & Colleges Sport) matches that are most played on a Wednesday afternoon. Currently Bath has three male and two female teams, with the women's 1sts being the 2022-23 national champions. Players also compete in individual BUCS competitions and many have gone on to represent Great Britain at the World University Games or the annual Master'U BNP Paribas tournament in France.
The aim of the University programme is to be integrated in with the Team Bath Academy and Pro teams. This means the 1st teams train daily with professional players and have access to the same sessions.  2nd and 3rd team players have opportunities to hit with pro players if they are of a suitable level and can also access Academy sessions.
This means student-athletes have access to technical, tactical and match-play sessions. These sessions are always underpinned by the psychological aspects of the game. Coaches work at this daily, with the help of sports psychologists, to make the players as mentally robust as possible. Players can have additional off-court sessions with sports psychologists if required. Alongside this players engage in strength and conditioning training, prehab sessions and on-court movement coaching.
Students on the programme are eligible to apply for a University of Bath Sporting Scholarship or funding from the Talented Athlete Scholarship Scheme (TASS). They can also apply to be a member of the Team Bath Dual Career programme, receiving lifestyle support and advice on how to achieve their full potential in both the sporting and academic arenas.
How to apply
To become a member of the University of Bath teams a player must be accepted into the University on any course (click here to see what it is available). Trials for the teams are held at the start of the academic year (September). If successful, access to the appropriate programme is put in place based on the team a player is selected for and their academic timetable.
If you are looking to come to the University and would like more information, please email Lead Coach Craig Procter – cap24@bath.ac.uk – or click here to fill in an 'expression of interest' form.
Meet the team