Team Bath Buccaneers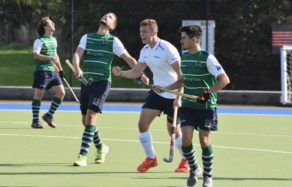 Our partner club Team Bath Buccaneers represent the top level of hockey played at the University of Bath.
Former Buccaneers Head Coach Bobby Crutchley – a member of the University of Bath Hall of Fame for Sport – led Team GB at the Rio Olympic Games in 2016.
The men's first team play in Division 1 South of the national Men's Hockey League having previously won the Men's Hockey League West Conference title on several occasions in recent years. The ladies compete in the Investec Women's Hockey League Conference West.
An additional seven men's and four ladies' senior sides compete across both the indoor and outdoor versions of the game. There are an additional two masters, two indoor, five summer league and 17 junior teams associated with the club.
The men's indoor team enjoyed their best result ever in 2018 when they reached the national final of the Jaffa Super 6s at London's Copper Box Arena, having qualified from the league stages for the first time in the club's history.
The Buccaneers' home venue is a water-based Sitec pitch at the University of Bath which features a 300+ covered stand for spectators.
Contact
Contact Hockey Development Manager Ian Cordwell
Visit the Team Bath Buccaneers website