Tokyo 2020
Sportspeople training at the University of Bath will be bidding to represent their countries on the greatest stage when the Japanese capital city of Tokyo hosts the 2020 Olympic and Paralympic Games.
The Games of the XXXII Olympiad will take place from Friday, July 24 to Sunday, August 9 and will feature a record 33 sports.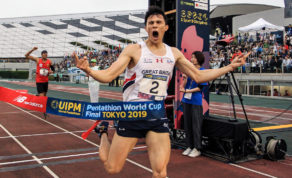 There are around 50 sportspeople who currently train or have trained at the University who are in contention for a Tokyo Olympic place. We caught up with three of them – Joe Choong (modern pentathlon), Tom Dean (swimming) and David King (athletics) 500 days before the Games, and with Ben Fletcher (judo) one year before the event. Click on the links to see what they had to say.
The Tokyo 2020 Paralympic Games will then be staged from Tuesday, August 25 to Sunday, September 6 and will feature 22 sports.
Pentathlon GB's Joe Choong became the first University-based athlete to set the Tokyo 2020 qualification standard when he won men's individual gold in the Olympic host city at the 2019 World Cup Final, a test event for the Games. Read the full story by clicking here.
To Tokyo via Bath
The University of Bath hosted a qualifying event for the Tokyo 2020 Olympic Games when the 2019 Modern Pentathlon European Championships were staged at the Sports Training Village – home of Pentathlon GB's National Training Centre – from August 6-11, 2019.
There were 16 qualifying places up for grabs – eight in the men's competition, eight in the women's – and the event took place exactly a year before the Olympic modern pentathlon competition is staged.
Among those earning qualification spots for Team GB were Jamie Cooke, who won men's gold in superb style, and Kate French, who was a silver-medallist in the women's competition.
Countdown to Tokyo 2020
Stay up to date with all the build-up, news and selections on our Olympic news channel – click here.