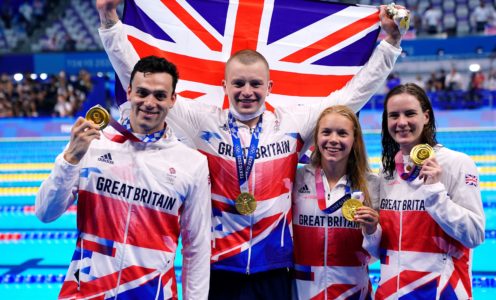 James Guy won his second gold medal of Tokyo 2020 and University of Bath graduate Anna Hopkin was also crowned as Olympic Champion as Team GB's gold rush in the swimming pool continued in magnificent style on this Super Saturday morning.
Victory came in world-record time too as, after being given a strong start to the mixed 4x100m medley relay final by Kathleen Dawson and Adam Peaty, British Swimming National Centre Bath star Guy swam a stunning butterfly split of 50.0 to give freestyler Hopkin a lead that she consolidated magnificently with a 52.0 leg to bring the team home in an incredible time of 3:37.58.
Freya Anderson – who, like Guy, is coached by David McNulty at the Team Bath Sports Training Village – is also bringing home a gold medal after her excellent anchor leg for GB in the relay heats.
After winning two silver medals at Rio 2016, Guy is now a double Olympic Champion having won gold alongside training partner Tom Dean, fellow Bath-based swimmer Matt Richards and Duncan Scott in the 4x200m freestyle relay.
Guy pulled out of the individual 100m butterfly to concentrate on the relay and said: "It was a very hard choice and I probably could have medalled in that final but it paid off – gold medal, world record and doing it with this team."
Gold continued the incredible rise of Hopkin, who took a break from competitive swimming as a teenager and only restarted her career in 2014 when she joined the student club at the University of Bath, where she studied Sport & Exercise Science.
"It's just an amazing feeling and I feel so privileged to be in this team," said Hopkin, dubbed 'The Bullet' by team-mate Guy. "When I turned I saw I still had a good bit of water lead so I just went for it."
Before the Games, Hopkin – who was coached by University of Bath Head of Swimming Mark Skimming – said: "If you'd told me back then [when I joined Bath] that I would be an Olympian I'd have just laughed at you.
"I knew I wanted to be part of a team again and obviously Bath is so strong at swimming. That was a sport I'd always been good at but I didn't have any major expectations about where I would get with it. I was hoping I could maybe do the odd relay and have a bit of fun socially but just how quickly it accelerated and went beyond took me aback."
From 2014 BUCS to 2021 Olympic Games – so so proud of you @annahopkin #bbcolympics #gold #WorldRecord pic.twitter.com/YMKPhMqh0y

— Paddy Ham (@ham_paddy) July 31, 2021
There is potentially another medal on the cards for Guy on Sunday as an incredible week of swimming concludes with the men's 4x100m medley relay final (3.36am BST respectively).
Also going for a medal in the 50m freestyle is former World Champion Ben Proud, who has been training with coach Skimming at the University of Bath this year. He booked his place in Sunday's final (2.30am BST) by clocking 21.67 in today's semi-finals.