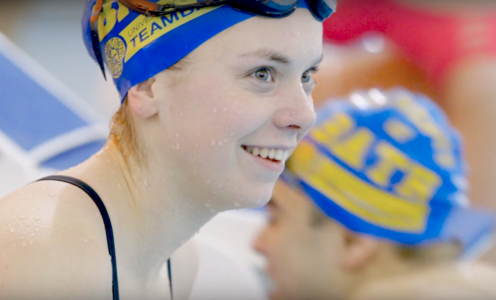 When Anna Hopkin moved to the University of Bath in 2014, she joined the student swimming club with the goal of racing at student competitions and having a fun group to socialise with.
Fast forward seven years and Hopkin is not only looking forward to making her Olympic Games debut at Tokyo 2020 but also eyeing a place on the podium with Team GB.
The explosive freestyle sprinter was a talented junior swimmer while growing up in Lancashire but took a four-year break from competitive swimming as a teenager and it was only when she began studying Sport & Exercise Science at Bath that her career was reignited.
"Looking back, it's quite incredible really," said Hopkin who was coached by Mark Skimming, the University's Head Swimming Coach. "If you'd told me back then I would be an Olympian I'd have just laughed at you.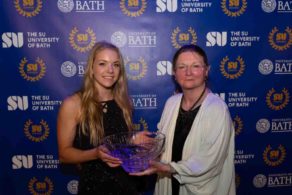 "I knew I wanted to be part of a team again and obviously Bath is so strong at swimming. That was a sport I'd always been good at but I didn't have any major expectations about where I would get with it. I was hoping I could swim at BUCS, maybe do the odd relay and have a bit of fun socially but just how quickly it accelerated and went beyond took me aback really.
"The year I started at Bath, the 50m pool was being renovated and our training times were 5-7.30am so I was quite apprehensive. I hadn't done mornings since I was 12 or 13, I'd only been swimming a couple of times a week and suddenly I was going to be doing it really early for six sessions a week.
"I was really honest with Mark and said 'I don't think I can cope with that and understand if I can't be on the team', but he was amazing and said I could start on three sessions a week which was still a step up. That really made a huge difference because I'm not sure whether I would have carried on otherwise. For Mark to allow me to build back into it again was really amazing."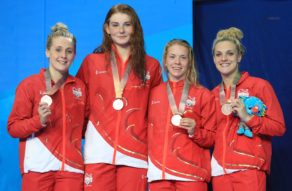 That approach paid dividends as Hopkin went on to win the British title while training at the University, then earned selection for the Gold Coast 2018 Commonwealth Games where she won bronze in the women's 4x100m freestyle relay. She was also named as both the University's Sports Personality of the Year and the national BUCS Sportswoman of the Year that year, during which time she was supported by a Thompson Education Trust scholarship.
After graduating from Bath, Hopkin spent the next two years studying for a Masters and competing at the University of Arkansas in the United States, setting the third-fastest 100m freestyle ever recorded at the SEC Swimming Championships, before returning to the UK at the start of the pandemic to join Mel Marshall's training group – which includes Olympic Champion Adam Peaty and Luke Greenbank – at Loughborough.
After booking her Tokyo place with rapid 50m and 100m freestyle times at April's Olympic Trials, Hopkin maintained the momentum with five medals at the European Championships in May – four in relays and individual bronze in the 100m freestyle.
"I was a little uncertain where I would be at the first couple of meets this year and come Trials it was still a bit unknown what my times would be," she said. "Since then I've just grown in confidence and I think I'm swimming a lot better technically so I hopefully I can keep building on that through to the Olympics.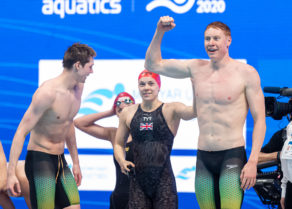 "To win some of the relays by the amount we did at the Europeans shows just how the team is doing at the moment. It will obviously be more difficult when you bring in the likes of America, Australia and Canada but I do think we can be right up there and fighting for medals.
"In the mixed relay we were only 0.3 off the world record. Hopefully we can push on further at the Olympics and go even faster. There is so much potential there and anything is possible."
Part of the driving force is the internal competition between Britain's crop of exciting female sprinters that includes Freya Anderson, who now trains with the British Swimming National Centre in the Team Bath Sports Training Village pool that Hopkin called home.
"I see Freya doing fast times and know I need to keep up with her," she said. "We are obviously very different swimmers – I'm small, she's tall, I take it out fast, she brings it back fast. We have different tactics but we're pushing each other on and it's really nice to have that competition, you're constantly having to push yourselves forward and not get complacent.
"Tokyo is the biggest stage I'll have ever raced on and obviously it might feel quite different without spectators but I think it will still feel like an Olympics. I'm just excited to hopefully step up, do my best performances in the biggest arena and see how far I can get."