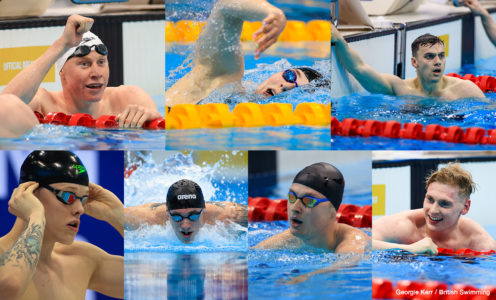 Seven swimmers who train at the University of Bath look set to represent Team GB at this summer's Tokyo Olympics after an outstanding week of racing at the British Swimming Selection Trials in London.
Freya Anderson, Kieran Bird, Tom Dean, James Guy, Jacob Peters, Matt Richards and Brodie Williams all met the qualification standard of both swimming inside the Olympic consideration time for their events and finishing in the top two in their finals, as did University of Bath alumna Anna Hopkin.
That means the British Swimming National Centre Bath elite training group, which produced four Olympic medallists at London 2012 and Rio 2016, will once again be well represented when Team GB's Tokyo squad is announced later this month.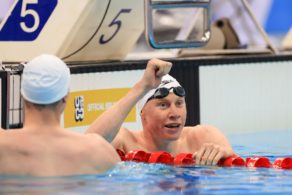 The results of ten months' hard work in the London 2012 Legacy Pool at the Team Bath Sports Training Village under the guidance of coaches David McNulty and Jol Finck was clear to see as swimmers rose to the occasion and smashed their personal bests to secure consideration times.
That was particularly evident in the last race of the week, a breathtaking men's 200m freestyle final that saw four Bath-based swimmers – Dean, Richards, Guy and Sports Performance graduate Calum Jarvis – all dip below the Tokyo standard as they finished in the top five.
It was Mechanical Engineering student Dean who managed to claim second spot, his time of 1:44.58 being well inside the previous British record and the second fastest in the world this year behind race winner Duncan Scott's 1:44.47.
"I'm absolutely buzzing," said Dean, who is supported by a Bill Whiteley Sporting Scholarship and had finished runner-up in the 400m freestyle, outside the Tokyo standard, and third in the 100m freestyle. "I skipped through the 1:45, I wasn't expecting that. I think Duncan pulled me through and it feels like it's been a long time coming.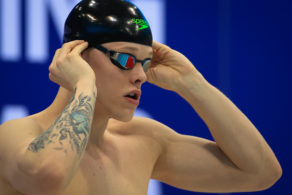 "I knew I was on good form with PBs in the 100m and 400m, so I knew something special was going to happen but that was better than I could've ever expected."
The men's 100m freestyle final was also full of drama as 18-year-old Richards, who moved from Wolverhampton to Bath last summer, smashed his lifetime best to finish runner-up to Scott in 48.23.
"I can't thank the team I've got around me enough," he said. "Everyone at Bath, everyone at Royal Wolverhampton, my mum, my dad, my grandparents, my whole family."
Doubling up in the women's freestyle events was Anderson, who followed up her opening-night victory in the 200m with a thrilling 100m success against Sport & Exercise Science graduate Hopkin – just nine-hundredths of a second separating the duo as both went inside the Tokyo standard.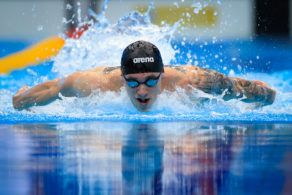 "It's amazing we both got under the time and it's great to see the 100m free become so competitive," said Anderson, who clocked 53.40.
Hopkin added: "I'm really happy with that. It's been difficult to know what kind of form I'm in, so to be that close to my best time and under the consideration time, I'm over the moon."
There was a Bath NC one-two in the men's 100m butterfly as Rio 2016 medallist Guy took the win in 51.44 ahead of team-mate Jacob Peters, both going inside the Tokyo standard.
"That's the fastest I've been for a few years, so things are going quite well," said Guy, who had already set the 200m fly consideration time earlier in the week. "It's not quite the time I was hoping for but hopefully I can progress that at the Olympics."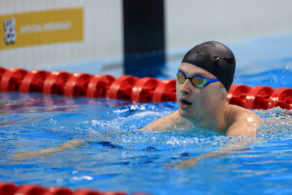 Peters joined Finck's training group in Bath last summer and said he had been inspired by watching fellow young guns Richards, Bird and Williams all set the Olympic standard at the Trials in thrilling style.
Bird took nearly four seconds off his pre-Trials personal best to win gold in the 400m freestyle in 3:46.00, while Williams took a superb second spot in the 400m individual medley in 4:12.95.
"Watching Kieran, Brodie and Matt from our squad swimming so well, it was really pushing me on," said Peters. "I remember on Wednesday when Kieran did that 400m freestyle, I was jumping around the bedroom!"
Holly Hibbott went close to achieving the Tokyo standard as she won the women's 400m freestyle in 4:07.03, just a second outside the consideration time, but there is still chance to earn one of the last remaining Olympic places at next month's European Championships and Glasgow International Meet.
"Obviously I'm a bit disappointed but I'm really enjoying the move to Bath," said Hibbott. "It's been a really positive move for me and that's one of the fastest times I've had since the Europeans in 2018. I've got to take the positives out of it."
Santander Scholar Leah Crisp, who studies Economics and Mathematics at the University of Bath, was runner-up to Hibbott in that race and claimed victory in the 800m freestyle (8:44.67) and 1500m freestyle (16:46.09).
Also making finals during the Trials were Jono Adam (6th 100m back), Cameron Brooker (7th 200m IM and 200m back), Jacob Greenow (6th 200m IM and 400m IM), Emily Large (4th 200m fly, 5th 100m fly), Will Ryley (5th 400m IM, 6th 800m free), Ciara Schlosshan (5th 200m fly) and Luke Turley (3rd 800m free and 1500m free, 4th 400m free).
Pictures credit: Georgie Kerr, British Swimming